Madison College loses 13-point lead, falls to College of DuPage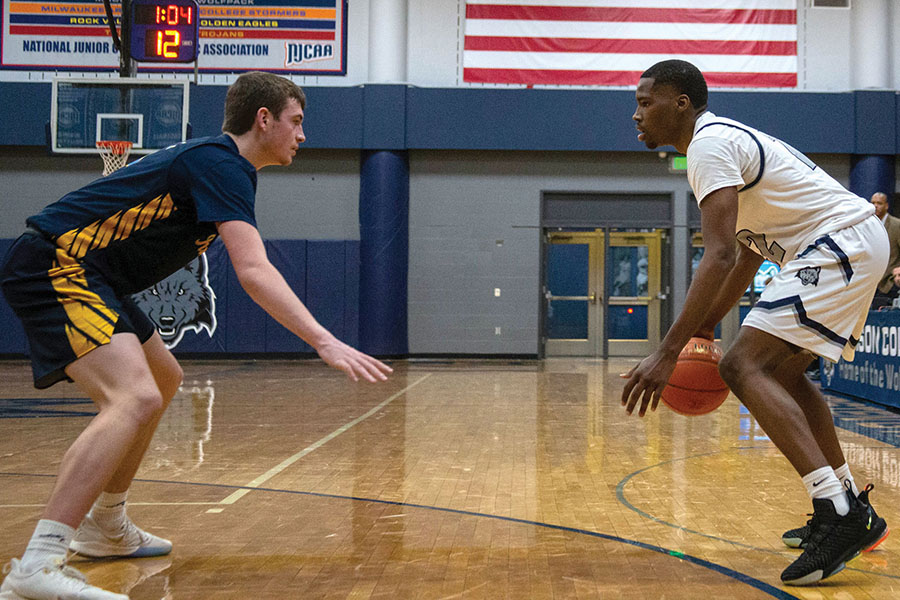 A tough second half against the College of DuPage, saw the Madison College men's basketball team lose a 13-point lead and fall 80-79 at home on Jan. 15.
DuPage scored the first 15 points of the second half, holding the WolfPack scoreless for 5 minutes. After multiple ties and lead changes, the DuPage built an 8-point lead late in the game.
A few late 3-pointers for Madison College closed the gap, but the team was unable to complete the rally back.
Marcus Kartes led Madison College with 20 points, while Shamar Newman added 18 and Jason Williams had 13.
The loss put the WolfPack at 2-3 in conference play and 9-9 overall.
Madison College will host Triton College on Jan. 18 and Milwaukee Area Technical College on Jan. 22.
Madison College 86, Wilbur Wright 79
Trailing at halftime, Madison College outscored Wilbur Wright, 47-33, in the second half to post an 86-79 victory.
All five starters for Madison College scored in double digits, with Newman leading the team with 17 points. Earl Lewis was close behind with 16, of his own, while Kartes had 14 points and Davion Washington added 13.
William had 11 points and was a rebound shy from another double-double. Jordan Boyd had a new career high 12 points for the WolfPack and came off the bench.
When asked what he is looking for in conference play Madison College head coach Jamal Palmer said "I'm looking for our guys to start getting some wins, I'm looking for us to compete, and I'm looking for us to grow."
Madison College 98,
Harper College 59
Madison College got its first conference win on Jan. 8, when it traveled to Palatine, Ill., to play Harper College and posted a 98-59 win, their largest-margin win since 2017.
Madison College had five players score in double digits led by sophomore Lewis with 18. Williams was close behind with 17 of his own to go along with his 11 rebounds for his sixth double-double this season.
Washington had a team high 14 rebounds to go along with his 16 points for his second double-double. Washington's 14 rebounds were a career high for him. Boyd scored 10 points off the bench of the WolfPack.
Rock Valley 87, Madison College 73
Rock Valley took a 50-36 at half and didn't allow Madison College to chip away at the deficit in the second half, resulting in an 87-73 loss at home on Jan. 4.
"We lacked urgency on defense, we have to go back to the drawing board on defense, and we have to have a little more pride when it comes to defense," Parker said.
Madison College once again had five players score in double digits, led by Lewis with 22 off the bench. Williams had 15 points, while Newman, Kartes, and Malcom Reed all having 10. Washington had seven assists for the WolfPack.
Joilet Junior College 83, Madison College 71
The new year didn't start out the way the WolfPack had hoped, falling 83-71 at Joliet Junior College on Jan. 2.
"We were a few people down that game. We played with six people. But the guys that we did play with they played hard," Palmer said.
Down by 20 at half Madison College, chipped away in the second half but ultimately it wasn't enough. Washington had a team high 24 for the WolfPack and was one of four players to score in double digits.