Men's basketball team hopes to improve on 5-26 season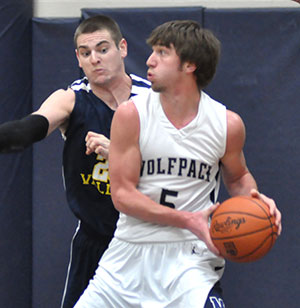 If there's one goal for the Madison College men's basketball team this season, it would be to continue to improve.
The team has only four returning players from last year's 5-26 team, and none of them were starters. In fact, combined they averaged only 16 points a game.
So success will depend upon how much they and the 10 freshmen and one transfer player on the team continue to improve throughout the season.
Returning sophomores are Brandon Holz, Xavier Robinson, Corey McGown and Frank Kachela. They are joined by Bryce Long, who transferred from Denmark Technical College.
After three games this season, the team is still looking for its first victory.
If those three games are any indication, freshmen will play a big role in the team's success this season.
Griffin Eckhart and Myron Anthony led the team in the first two games. Eckart scored 13 points in the opener and 16 points in the second game. Anthony added 11 points in the opener and let the team with 22 in the second game.
Coach Scot Vesterdahl, who is in his 13th season with as coach of the WolfPack, shared his thoughts on the upcoming season with The Clarion.
Question: What do you see as your team's greatest strength this year and why?
Vesterdahl: I think our work ethic is excellent.  This team plays hard in practice and in games.  Our team chemistry is also very solid.
Who seems to be stepping up as team leaders this season and what do they bring to the table?
Vesterdahl: At this point our second year players seem to be the leaders. They bring experience, work ethic, and an understanding of what it will take for our team to be successful.
What incoming players are you most excited about and what do they bring to the team?
Vesterdahl: We are excited about all of our players and their potential.  Once they learn what it means to play hard every minute then they will have a chance to reach that potential.
You have a big freshman class this season. What does that mean for your team? How has it impacted things?
Vesterdahl: It means we will be very young at some key positions. We have a lot of teaching and skill development work to do this season … but we do have potential. Our inexperience has  been displayed in some of our games this season but we have already seen growth in many areas. For example, taking care of the ball on every possession has improved over last year.
What will be your points of emphasis with the team this season? 
Vesterdahl: To stay the course. Keep working hard every practice and game and we will teach and work on skill development so that we are much improved as the season goes on. We may have some games where we don't perform up to our standards but we will learn from game film and then practice to improve.
What goals has the team set for itself this season? 
Vesterdahl: To play as hard as they can, to play smart, and to play together. If we do those things and continue to improve, we'll be fine.
Which teams do you think will be the ones to beat in the N4C and why? 
Vesterdahl: All of the teams are excellent. Triton and Joliet are always there at the top.  Milwaukee and Rock Valley have been very good as well.