Chef series features comfort food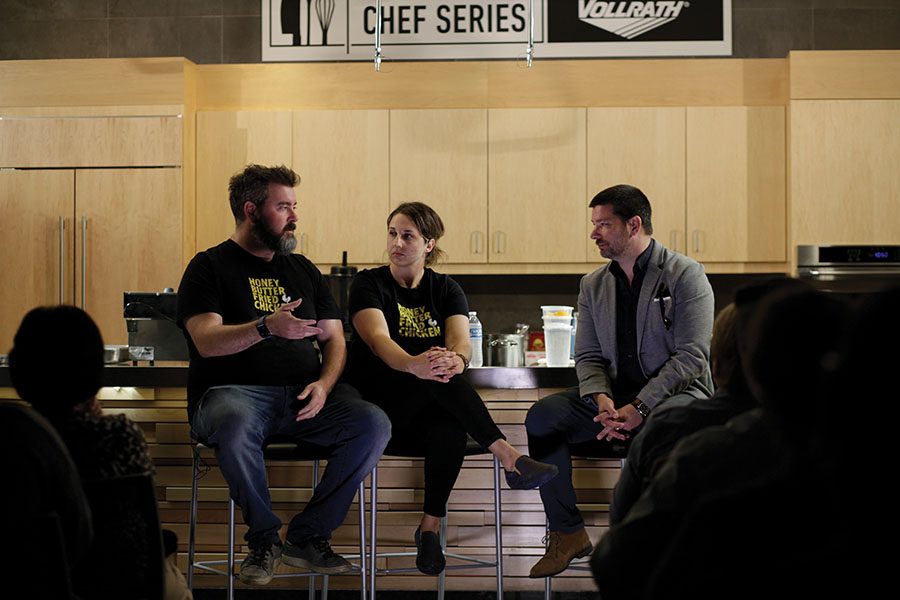 Imagine sitting down with 23 other friends and chefs cooking for you in your own home. Sunday Dinner Club out of Chicago, Ill., is a catering service for you and your guests that dishes up the most delicious homemade comfort food.
Josh Kulp and Christine Cikoski created Sunday Dinner Club. They had realized that there was some confusion that came with the name, but decided to keep it because the real meaning behind Sunday Dinner Club was about joining together with a group of friends or family and sharing a home cooked meal.
Over the years Kulp and Cikoski experimented with different techniques on how to prepare different foods and what utensils were vital to have in the kitchen with them.
As they ventured from place to place, cooking in different kitchens made them realize that they wouldn't always have the nice utensils like in their home kitchen, so they would have to work with what they had.
Kulp and Cikoski both dropped out of their undergrad pursuits and had met in culinary school. They both had the same drive and passion for food and knew they wanted to start something before they graduated, so Sunday Dinner Club was created. A few years later, they opened their first restaurant together, Honey Butter Fried Chicken, in Chicago.
These co-owners both work full time with both companies. Their outlook is that "you should feel good about your food – where it comes from, how it's prepared, how it is served and by whom." They get all of their ingredients directly from local farms and make sure to use every part of every ingredient, so nothing goes to waste.
As co-owners working in the restaurant industry, they manage to make sure to give their employees full benefits, run tightly managed companies, and take care of their families outside of work. Kulp and Cikoski don't run a "Mom and Dad" role in their restaurants—they want to make sure that their employees know that they are the ones in charge.
With the businesses, they desire for them to grow and expand but are having a hard time with employment. With their companies they want to make sure to keep high values and morals.
Quality of food and service is very important to them. The restaurant does not have you tip your server due to the company giving them full wages. Kulp and Cikoski agreed that you are paying a more for good quality food and despite the price being higher, your tip is factored within your bill.
Honey Butter Fried Chicken is located at 3361 N. Elston Ave. Chicago, Ill. 60618. They accept cash and credit cards and they are a counter service restaurant so they do not accept reservations.
Sunday Dinner Club can be contacted at [email protected] and you can see what events they will be hosting at https://www.sundaydinnerclub.com/events.