Holiday treat becomes new Starbucks favorite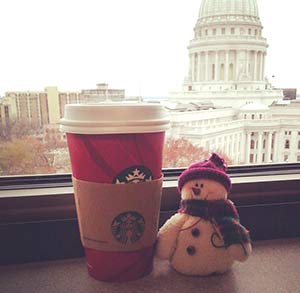 Hang on for a minute...we're trying to find some more stories you might like.
Two ladies at Starbucks recently pressured me into trying a new latte.
I went in and asked if I could taste the new Chestnut Praline latte because it sounded intriguing. They said no because they didn't have it premade.
I inquired as to what it tasted like, and how nutty it was. They let me smell the sprinkles they put on top of it, and they smelled nice. I told them I did not like chai flavoring or the pumpkin spice latte at all.
They said I would love the Chestnut Praline latte. I hesitated, then told them I didn't think so, I better order my regular Vanilla Soy latte.
Then the atmosphere shifted. They slowly surrounded me; armed with coffee filters, stirring sticks and stern faces, they insisted that I try the new drink. They chanted the word "chestnut" over and over with the fires of Mordor in their eyes. They were relentless. They wore me down. I ordered the Chestnut Praline Latte.
I then waited in fear at the end of the counter, wondering if I had made a big mistake, and if things could ever be the same again.
I watched, as a sprite young lady in a cute cap tossed some of those sprinkles I had previously sniffed on top of a foamy, white concoction, snap a lid on and announce, "Soy, No whip, Chestnut Praline Latte!" and slide the little red holiday cup towards me. I said, "Thank you" with a shaky voice.
The world paused for a moment. The wind stopped outside. A man at the table near me set down his New York Times and stared at me, pensive. It was now or never.
And then I took a sip. A long, drawn out, contemplative sip.
And I liked it. I liked it a lot.
Elves popped out from behind the counter and underneath the tables and started to prance around me while throwing chestnuts in the air. All of the patrons of Starbucks got up and came over to give me hugs and congratulate me. The two ladies behind the counter smiled at me with a twinkle in their eye. And then Santa himself walked out of the backroom and told me I was the chosen one.
I guess what I'm trying to say is, I have a new favorite Starbucks drink.