WolfPack women's basketball players earn honors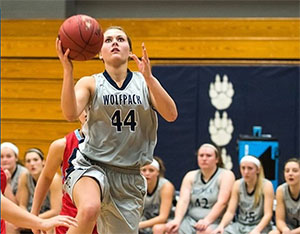 After helping lead their team to 27 wins and its first regional title since 2010, three Madison College women's basketball players have received post-season honors.
Freshman Rachel Slaney was recently received All-America Honorable Mention recognition from the Women's Basketball Coaches Association in the junior college division.
Slaney, Jenna Endres and Taylor Nelson also received all-region honors. Slaney and was named to the 2016 Region IV Division III All-Region first team, while Endres and Nelson were both selected to the second team.
A forward from Barnaveld, Slaney finished second on the team in scoring with 15.9 points a game and led the team in rebounding with 8.3 a game. She was one of the top free throw shooters in the nation, going to the line 213 times and converting on 71.8 percent of her shots.
Slaney led the team in scoring 16 times throughout the season and had eight double-doubles. She finished with 478 points, the 14th best scoring season in school history.
Endres, a sophomore, was the team's leading scorer at 16 points a game, tallying 497 points in the year for the 12th best scoring season in school history. The Wisconsin Heights graduate finished her career seventh on Madison College's all-time scoring list.
Nelson averaged 11.6 points, 4.4 rebounds and 4.3 assists during the season, but the sophomore played in just 25 games because of a knee injury. The Monona Grove graduate finished her WolfPack career sixth in all-time assists and 13th in scoring.