Change only happens when you vote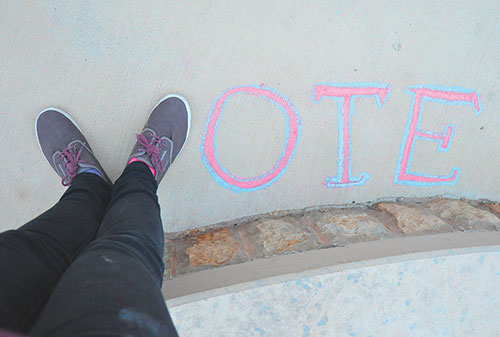 To start, I just want to say that I love comedians, especially political ones. It is because of political comedians that I became interested in the political process and can today count myself as a reasonably well-informed member of society. The role of rebellious satirist is an important one; we need people to stand on the sidelines and call foul, even when they're not the appointed referees.
So understand it is with the utmost respect that I say George Carlin is dead wrong when he advocates abstinence from the voting process (one of the few abstentions he would recommend).
Carlin was nothing if not a brilliant rhetorician. His "Seven Dirty Words You Can't Say On Television" is rightly an iconic piece of comedy and one of the most influential treatises on censorship in recent history. Criticism of institutions were his bread and butter, and he had a lot of good points to make, but he also said that voting was merely a masturbatory process, incapable of changing a broken system, and that it would be better to just stay home on election day.
This particular routine more than most reveals the difference between generational ideologies. Carlin spoke to Generation X, the kids growing up in the wake of Watergate and Vietnam, a generation often defined by cynicism and apathy. It makes sense that his message would appeal to that audience, but the millennial generation has a decidedly different outlook. We're a generation of political activism, idealism, and social reform. We're the kids who actually think Bernie Sanders could be president. So why is youth voter turnout so low?
According to the Census Bureau less than half of U.S. citizens between 18 and 29 years old voted during recent presidential elections, and the number drops to around 20 percent for midterm elections. That can't just be because students are averse to the word 'midterm.' Clearly, Carlin's political stance of apathy is still relatable to young people, which is why I feel compelled to point out just why he's wrong.
First, Carlin's most quoted line from his anti-voting routine is "If you vote, you have no right to complain," meaning that you as a voter are to blame for the corruption and incompetence that plagues our system, because you voted that evil into power. Carlin claims that by not voting he absolves himself of all responsibility for our political situation.
That is false. Civic responsibility isn't a piece of clothing you can either choose to wear or bury at the bottom of your dresser drawer, it is an integral part of your identity as a citizen of the U.S, whether you asked for that responsibility or not. No vote is still a vote, and Carlin shares just as much responsibility for our government as anyone else, more even, because he rejected the opportunity to nudge our the political process in a more desirable direction.
The other reason Carlin gives against voting is that it just doesn't matter. A single well-intentioned vote by an ordinary citizen can't change our squint-and-it's-an-oligarchy government.
True enough. Gerrymandering, SuperPACs, and lobbying hold far more power than the ordinary citizen. However, as Bernie Sanders, and even more impressively Donald Trump, have shown, establishment corruption falls by the wayside when you can tap into a strong voter base.
The powers of these two candidates are certainly the most surprising at this point in the election, both defying conventional wisdom on what makes a successful candidate. Regardless of where you stand on the political spectrum, the support surrounding at least one of these men and a few other candidates probably makes you very nervous, and that is why it is important that you, the reasonably normal everyday citizen, actually vote. Because if you don't the only voices that are heard are the fanatics, the people who devote all of their time and energy to the political and ideological monsters of the day.
Even if you don't particularly like any of the candidates, and that's not unlikely given this election of bread and circuses, go vote for that lukewarm first choice so the worse guy doesn't get it by default.
Carlin paints not voting as an act of rebellion, a conscientious objection to a broken system. But no revolution ever came from sitting at home fellating yourself, as he would recommend, and no government looks at the people who didn't vote and says, "Gee, they didn't vote, I guess we'll just fix ourselves." Change happens because people demand it, and people demand it by going out and making their voices heard through protests, petitions, calls to representatives, and most importantly, votes.