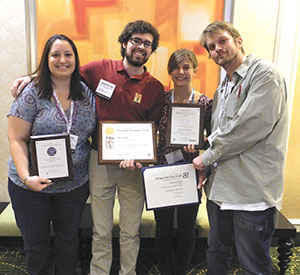 Clarion staff report

November 6, 2013
For the second time in its history, The Clarion has received the National Pacemaker Award presented by the Associated Collegiate Press.  The award was one of six honors received by The Clarion at the Associated Collegiate Press National College Media Convention in New Orleans Oct. 23-27. The Pacemaker...
George Treviranus, Editor

August 24, 2012
Here we go, another year. I'm ready, you're ready (I hope), and so is my bag of chex mix which would be number 15 for the week. Some things are looking different here, aren't they? First of all, the paper was completely redesigned this summer to reflect some coming changes for the year. And...