The Clarion wins award at national college media convention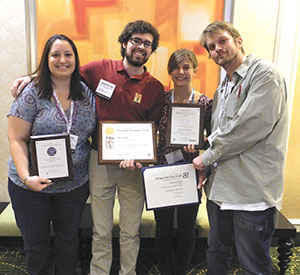 Hang on for a minute...we're trying to find some more stories you might like.
For the second time in its history, The Clarion has received the National Pacemaker Award presented by the Associated Collegiate Press.  The award was one of six honors received by The Clarion at the Associated Collegiate Press National College Media Convention in New Orleans Oct. 23-27.
The Pacemaker recognizes excellence in student journalism and has been awarded since 1927. Judges review five issues from each publication and select Pacemakers based on coverage, photography and artwork, content and quality of writing.
This is the sixth time The Clarion has been a finalist for the newspaper Pacemaker. The only other time it received the award was in 2007. Staff members of the Associated Collegiate Press refer to the award as the Pulitzer of student journalism.
Five other awards were received by The Clarion at the national convention.
The newspaper took second place in the Best of Show competition for two-year college newspapers. This award recognized work done by The Clarion staff during this school year.
Sarah Weatherbee finished in third place in the two-year college Reporter of the Year competition. Weatherbee served as multimedia editor last year and is now studying in Beirut, Lebanon. She is the fifth staff writer from The Clarion to receive Reporter of the Year recognition since 2000. The award included a $200 scholarship.
George Treviranus received three design awards at the conference. Treviranus won first place for special section front-page design in the College Media Advisor's Best of Collegiate Design competition. He took second place in editorial page design in the same competition. His work will be featured in an annual publication, "The Best of Collegiate Design."
In addition, Treviranus received honorable mention in the Pacemaker design competition for special sections. Treviranus was editor in chief of The Clarion in 2012-13 and was design director in 2011-12.