WolfPack softball has 12 games in just 6 days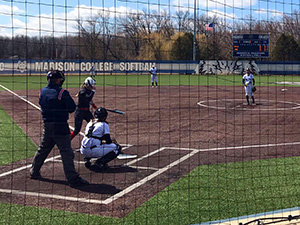 The first six days of May will be busy for the Madison College softball team. Weather permitting, the WolfPack will play 12 games in those six days thanks to some re-scheduled games and the start of tournament play on May 10.
As of now, Madison College stands at 21-11 overall and 6-3 in conference play, good for second place with just two conference games left.
Madison College has doubleheaders at Triton College on May 1, at Kishwaukee College on May 2, at Milwaukee Area Technical College on May 3 and at Waubonsee Community College on May 4.
The team then wraps up regular season play at home with doubleheaders against College of Lake County on May 5 and Illinois Valley Community College on May 6.
Madison College 10, Carl Sandburg College 2
A four-run fourth inning helped Madison College secure a 10-2 win over Carl Sandburg College on April 23. Casey Fountain, Makenna Gish and Brianna Brandner each had two hits in the game to lead Madison College. Fountain pitched the win, allowing just two runs and striking out six in five innings.
Madison College 12, Carl Sandburg College 6
The second game of the doubleheader saw Madison College score three runs in the first inning and five runs in the third inning on its way to a 12-6 win. Sophie Rivera finished with a team high five RBIs and a career high three hits. Madison College had four triples in the game, with Maddie Kvatek, Bri Unger, Kianna Patterson and Rivera each hitting one.
Madison College 9, Black Hawk College 1
A scoreless game quickly became a route after Madison College scored three runs in the third inning and three in the fourth inning on its way to a 9-1 victory over visiting Black Hawk College on April 24. Kvatek had two hits and two RBIs to lead the WolfPack, while Fountain pitched the win and struck out seven batters.
Black Hawk College 9, Madison College 6
The second game of the doubleheader saw Madison College fall 9-6 after taking an early 6-2 lead over Black Hawk College. A two-run homer in the fifth inning cut the lead to just two runs, and then a five-run seventh inning for Black Hawk turned the tables on the WolfPack.
Madison College 8, College of DuPage 0
A strong pitching effort helped Madison College dominate College of DuPage, 8-0, in five innings at home on April 26. Fountain held DuPage to just two hits and struck out 11 batters to improve her overall record to 9-2. Eight players had a hit in the game for Madison College, led by Mia Noelker and Briar Armatoski with two hits each.
Madison College 8, College of DuPage 3
After falling behind 2-0, Madison College rallied to an 8-3 win in over DuPage in the second game of the doubleheader. Patterson hit a two-run home run in the bottom of the third to tie the game, the first home run of her career. Mallory Sterling hit her second career home run in the fifth inning to key a four-run inning for the WolfPack.