WolfPack upends new in-state opponent
A wild second half saw Madison College fall behind by nine points, rally to a 10-point lead and then hang on for an 88-85 victory over new in-state rival Bryant & Stratton College at home on Nov. 30.
The biggest swing happened during a seven and a half minute stretch that was fueled by big 3-pointers, including two by Marquis Harris. As a team, Madison College hit 10 shots from beyond the 3-point line during the game.
Madison College's 10-point lead evaporated four minutes later, as Bryant & Stratton took a 81-79 lead with 1:40 left in the game.
But on the next possession, freshman guard Stavon Staples nailed a 3-pointer to give the WolfPack the lead for good. Staples finished the game with a career-high 19 points and has scored in double figures in three straight games. He converted on 4 of 8 shots from beyond the arc.
Marquis Harris, another freshman guard, also set a new career-high mark in scoring with 16 points and six assists. Sophomore Shane Waldon had 14 points and 12 rebounds for his first double-double of the season. Paul Schmelzer III was the only other WolfPack player in double figures, also scoring 14 points.
Madison College hosts Western Technical College on Dec. 7 and Loras College JV on Dec. 9.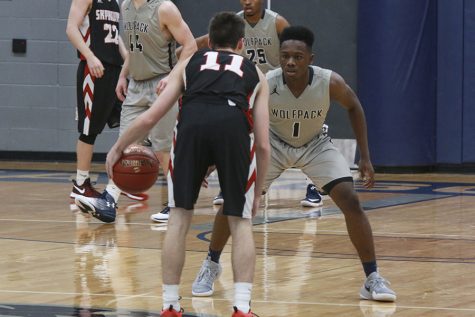 Rochester CTC 84, Madison College 75
Madison College played tough against No. 2 ranked Rochester Community and Technical College, but surrendered the lead with 10 minutes left and was never able to get it back in an 84-75 loss at home on Nov. 22.
First-year guard Tyree Young scored 11 of his 13 points in the first half to help Madison College take a four-point lead. But Rochester got hot in the second half, and finished hitting 58 percent of its shots. Madison College's Waldon led all scorers with 17 points and six rebounds. Schmelzer added 14 points, while Staples netted 10.
Madison College 103, Sauk Valley College 101
In the highest scoring game in Redsten Gymnasium since 2008, Madison College outlasted Sauk Valley College, 103-101, on Nov. 15. The 204 combined points was the most since Madison College and UW-Rock County combined for 234 in December 2008. It was the most points Madison College had scored since reaching 107 points in 2013.
Both teams had a hot shooting night. Madison College converted on 37 of 72 shots, and at 51 percent was just a few percent points higher than Sauk Valley. The two teams combined to hit 25 of 53 shot attempts from 3-point range.
Walden scored 21 points to lead Madison College, tying his season high total. Joel O'Donnell had 13 points and 10 rebounds for his second double-double of the season.
Four other players hit double figures for the WolfPack. Schmelzer scored 16 points, Tyree Young had 15, Jezzriah Burton added 12 and Staples had 11.