Women's basketball finishes 1 win away from nationals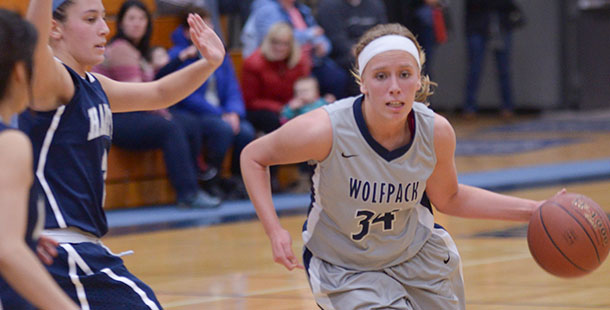 Clarion staff report
March 6, 2014
The Madison College women's basketball team got within one win of the NJCAA Division III National Tournament.
That one game, though, was against No. 1 ranked and two-time defending national champion Rock Valley College, a team that had already beaten the WolfPack twice this season.
Despite a strong performance, Madison College was unable to pull off the upset, falling to Rock Valley, 90-71, on March 1 in the NJCAA Regional IV championship.
The game was close throughout the first half, but Rock Valley inched its way to an 11-point halftime lead. Madison College was unable to close the gap in the second half.
A balanced scoring attack kept the WolfPack competitive throughout, as five players scored in double figures. Kelly Calhoun scored 15 points, while Gabrielle Hood added 13. Lizzy Britt and Chelsey Schulenburg both scored 11 points, while Meagan Mazur added. 10.
Madison College finished the season 21-10 overall and 10-4 in conference play.
A strong performance over rival Milwaukee Area Technical College on Feb. 27 propelled the WolfPack into the championship game.
Second-year post player Ellyn Hayden scored 18 points and had seven rebound to lead Madison College past seventh-ranked Milwaukee. It was the third time the two teams met this season, with Madison College winning twice.
Hood added 17 points and six rebounds in just 15 minutes of play. Schulenburg and Mazur each added 11 points.