Connected to success: New WolfPack coach taught at Arnold Palmer Golf Academy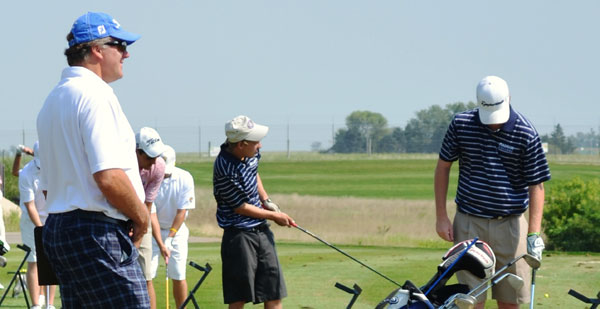 Troy Bruzewski, Sports Editor
September 11, 2012
Madison College's new golf coach can really teach the game – that's been certified by one of professional golf's most successful competitors.
Pat Gorman, a Wisconsin native and University of Wisconsin-Madison graduate, was hired to lead the WolfPack golf program this season. It's a role in which he has much experience.
In 1993, he began a four-year stint as lead instructor at the Arnold Palmer Golf Academy at Bay Hill Golf Course in Orlando, Fla. Though a long distance from Wisconsin, Gorman inadvertently placed himself within range of working for Palmer.
Gorman was completing an apprenticeship at Metro West Country Club, just a few miles from Bay Hill and Palmer's school. Previously, he'd looked at Bay Hill and contemplated a scenario of working there. Then, he discovered an organizational chart of the company he was working for.
"I found out Metro West and Bay Hill, were both managed by Arnold Palmer Golf Management," he said. "I always kept it in my mind, just how cool it would be to work there, then I found out it was the same company, so I started talking to them."
The networking eventually paid off and in March of 1993, Gorman was given the position at the academy. A perk of the job was playing golf with Palmer.
"My dad, I, Arnold and (former Professional Golf Association golfer) Dow Finsterwald; played the course as a foursome," Gorman said. "(Palmer) beat me by a few shots."
In 1997, Gorman began exploring opportunities to return to Wisconsin. Despite working at a premier course and academy, he wanted to return and be near his family. Plus, he didn't see much room for advancement at his current position.
"The next position up, from lead instructor, was held by Arnold Palmer's teammate in college and he wasn't going anywhere," Gorman said. "I figured that was as good as it would get at Bay Hill and I had an opportunity to return to Wisconsin, be an assistant at UW's men's and women's programs, along with opening my own golf academy."
Gorman now is the lead instructor at The Oaks, in Cottage Grove, and operates the Pat Gorman Academy, in addition to his coaching duties at Madison College.
Gorman had little time between his hire date and the start of the season, so he expects this initial season to be difficult.
"Our roster is very thin. We have six players and we had to scramble to get them all eligible for the season," he said. "I got hired just about a month before the team meetings, so there wasn't much time to prepare."
The WolfPack has competed in four events so far this season, and Gorman said there's certainly a need to apply his craft.
"We definitely have some room for improvement," he said. "But they're all showing signs of improvement."