Virtual OneCards are available for students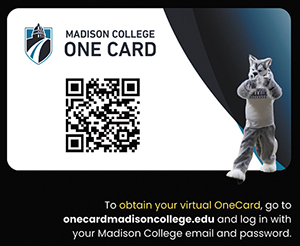 Madison College begins the transition to virtual OneCards. Starting in spring 2023, all Madison College students will be able to access a virtual OneCard, which will be an alternate option to the old plastic OneCards.
The new virtual OneCards are brought in with the hopes of convenience.
"The more we looked into it, it seemed like something that would be very simple for students. They might not always have their ID, but they always have their phone," said Renee Alfano, Student Life Director. It is anticipated that the virtual OneCards will help with busy lines at the beginning of new semesters.
Like the previous OneCards, students will be able to load money onto the Virtual OneCard and purchase with it.
"We have had problems with students losing their OneCards while having money loaded on them," said Alfano.
If students were to lose their phone, they would still be able to re-access their virtual OneCard. For Apple users, Madison College plans to make the virtual OneCard available through Apple Wallet.
"If we could get the bus pass on the OneCard that would be amazing," said Alfano.
Madison College has been in talks with Metro to try and find a way to merge a bus pass with the virtual OneCard.
"In the future, if we could coordinate student bus passes with our OneCard so there are not two separates, that would be the goal," said Alfano.
Madison College's ultimate goal with the virtual OneCard is to make everything as simple and convenient as possible.
All students are currently able to obtain a virtual OneCard. They can do so by searching "OneCard" on the student website and clicking on "Deposit money on your card today!" or by visiting Madison College OneCard Portal. Here students can create and view their virtual OneCard as well as deposit money onto the card.
Student Life is yet to strongly communicate the virtual OneCards to students but plans to start the week after spring break.
Alfano says, "We will start with an email. We have fliers with all the directions to help students access their virtual OneCard."
Students are to keep an eye out for this information to help them with their virtual OneCards.
For more information on obtaining your virtual OneCard, contact Student Life or email [email protected].