Actors help out nursing students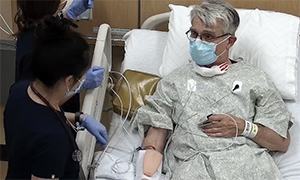 The Performing Arts program in partnership with the School of Nursing has started providing nursing students the chance to work with actors in clinical situations.
The actors are known as standardized participant, and they will portray anyone that a nursing student would come in contact with throughout their career; this means patients, caregivers and hospital staff.
"I think nursing is ideal for a beginning in this standardized participant program because so much about nursing is about educating and empowering the patient and the community, and we can't do that without another person there to have that exploration of communication within the therapeutic relationship," said Autumn Shiley, Standard Participant Educator and Program Director.
Scenarios are written by nursing faculty, and they cover such topics as pediatric care, end of life care and mental health care. Meanwhile, standardized participants are local professional actors, Madison College alumni and some current Madison College students.
Even though the standard participant program is fairly new to Madison College, programs similar have been used for many years across the country. The work is important and positively affects communities, said Shiley. While nothing is official yet, it is likely that the program will continue to grow within Madison College.
"I think we all see this program growing across curricula. Knowing something in a cerebral way is very different than experiencing something in a moment. I think this is ideal for marrying cerebral and visceral experiences together," said Shiley. "That can build such confidence in our students. It puts theory and knowledge into practice, and that's what our students need going out into the world."