Changing the Narrative: 'Be a voice, not an echo'
Speaker reminds students it's not about whether you get knocked down, but whether you get up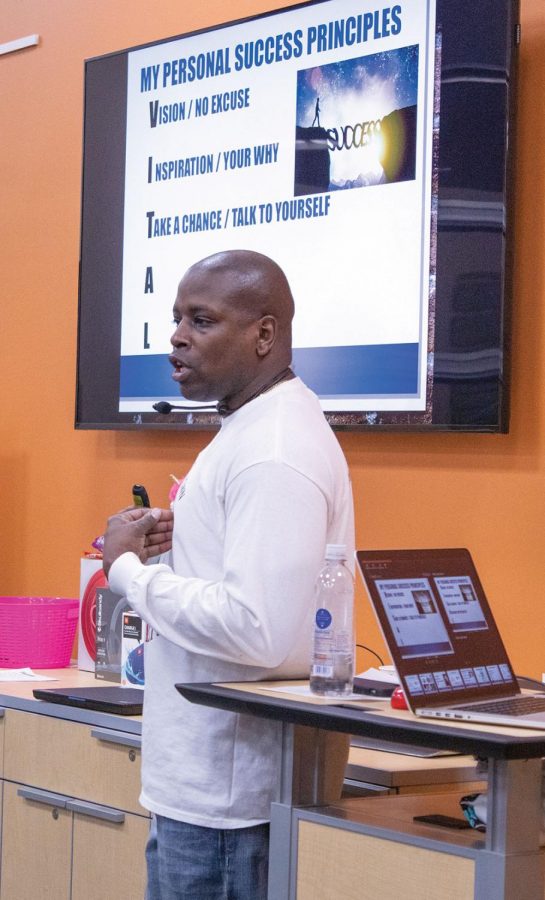 CEO of a multi-million-dollar company and motivational speaker, Ian Humphrey, gave a presentation at the second annual "Changing the Narrative – Be a Voice, Not an Echo" conference at Madison College. Humphrey spoke on Nov. 16 about finding your voice and making your own path.
Throughout the talk, Humphrey made several references to legendary boxer Muhammad Ali, who proved that when you get knocked down, you must not stay down. How you react to adversity is far more important than the hardship itself.
Humphrey understands the many ways life can knock you down as he faced the ICU as an infant, later foster care, abuse, and finally the death of his mother. These events hardly set up his life to be successful, so he turned to the wrong people and this crowd eventually lead Humphrey to prison during his youth.
Despite his tribulations, however, Humphrey was able to get back on his feet, and become the successful man he is today. He is the ultimate example of what it means to turn your life around.
During his presentation, Humphrey outlined five major objectives he used to reach his goals. These objectives can be easily remembered by the acronym "VITAL:"
• Vision/no excuses
• Inspiration/why
• Take a chance
• Associate with success
• Love what you do/refuse to quit
Humphrey demonstrated his first principle, vision, by giving a conference member a blindfold and asking her to throw a ball at a target. She didn't make it.
"You can't hit goals you can't see," Humphrey stated. He recommends writing goals down in a journal that you keep in your pocket. Keep your goals close to you at all times so you know what it is you want to achieve, and the steps you need to take to achieve them.
His second principle for success, inspiration, or "the why" is a concept we often forget to calculate when we think about our goals. We have visions and dreams, but without a reason to achieve them, our passion will probably run out quickly.
Humphrey gave three examples of "the whys" that motivate him daily: a picture of his family, a picture of the prison he went to in his youth, and the memories of the words from the people who told him he would never be successful.
A picture of a loved one, a reminder of an unpleasant experience from the past, and the words of a naysayer are all powerful tools that can be used to prove yourself, and others what you can achieve.
By using both negative and positive experiences as motivation for your passion, you will have more to fall back on when life gives you its inevitable challenges.
Humphrey's third principle is jumping in and taking a chance. How will you know how far you can fly if you don't ever move your feet off the ground?
Humphrey illustrated an example of a risk he took in his own life. Though originally from Los Angeles, a friend offered Humphrey a job in Colorado, so he saved enough money for a one-way flight to Colorado where he has been living ever since. He filled a suitcase full of his stuff, and he was not going to go back to LA.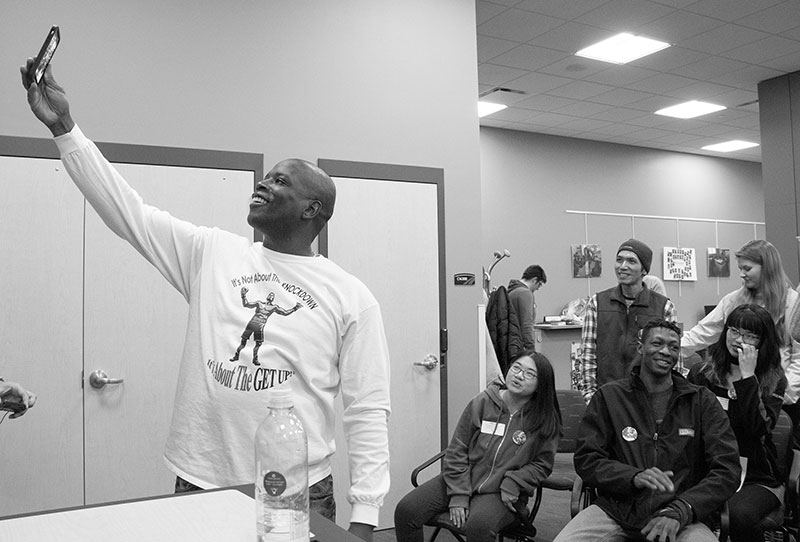 To be successful, you have to take risks, and find a way to make them work. While risk-taking can be very unnerving, it is better to take a risk and fail than never take the chance and have future regrets. You might always wonder how different your life would have looked if you had just found a speck of courage and did the brave thing.
His fourth principle is to associate with success. If you want to be successful, find the things that are associated with your personal definition of success, and start interacting with them daily. Start by learning and engaging with these ideas and find people who are goal-oriented and want to improve their own lives and spend time with them. When you start hanging around these kinds of people, Humphrey says, the energy you get from them is contagious.
Finally, love what you do, and never give up. The last principle is self-explanatory. "Find a reason not to quit," instructs Humphrey. Very often in our lives, we are pressed with numerous reasons to give up on our goals. Certain circumstances and experiences will test your endurance daily, and everyday you must prove that you are ready for the challenge of facing hardship, and triumphing in the end.
Though a hundred things can discourage you, you only need one thing to keep pushing you forward. Find that thing. As Babe Ruth is famously quoted, "It's hard to beat a person who never gives up."