ArchiTECHture students work with buildings in 3D programs
The advancement of technology has changed the way architects design and create buildings. Instead of spending hours at a drafting table using a pencil and a piece of paper to design and create a building, now architecture is done on the computer.
"The profession is definitely going towards completing building projects in a three-dimensional environment," says architecture instructor Bob Corbett. Madison College has various types of 3D technology that architecture students can use to create and design buildings with incredible detail and precision.
This semester, that 3D technology has been used on a dairy barn class project being completed by a few architecture students from Madison College along with some students from the UW Engineering Capstone class. In order to get accurate measurements of the dairy barn located on the UW campus, a 3D scanner was used.
The scanner itself just looks like a camera sitting on a tripod. What the scanner does is spin around sending out numerous laser points to create a 3D model of the interior of the building. From the 3D model accurate measurements can be taken to get a floorplan. The 3D scanning took around 20 to 30 hours, but without the scanning getting accurate measurements would have taken a lot longer.
"I spent a full year once measuring up a building," said Corbett.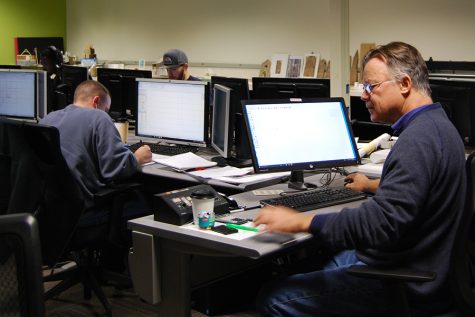 Once the measurements are taken they are uploaded to the computer and can be opened with one of the Autodesk programs where students can see the dairy barn in a 3D space.
Autodesk has many different software programs that students can use to see and design a building, and is almost standard in the architecture profession.
Another lesser-used software that students have access to is Lumion. This software, which uses the same graphical power that some video games use, can only be used in one classroom at Madison College because of the RAM needed to run it. In Lumion, the architecture students are working on the barn, adding all kinds of renovations including windows in the roof, added rooms inside, and elevators specifically for the dairy barn.
In the 3D space students can zoom around to every corner moving from floor to floor, like they are the camera and can see everywhere inside the building design.
Students can work out details that go into designing a building like how an angle in one corner might not be the same in another. Especially with an old building like the dairy barn that was built in the 1890s, when building wasn't industry standardized, being able to able to draw up wood beams that will fit with the inexact building is much easier in a 3D space.
The hope is that someday the dairy barn project worked on by both Madison College students and UW Capstone students will someday be used in as inspiration for eventual plans for renovations of the dairy barn.
As the architecture profession moves more and more to a technology-based profession, Madison College is doing its best at giving architecture students the best tools to work with.
"We try to keep them a little bit on the leading edge," said Jim Grenzow, an architecture lab advisor.
When an architecture student leaves Madison College they leave well versed in the different types of 3D technology that they will end up using in their careers.