Bunky's Cafe closes after 13 years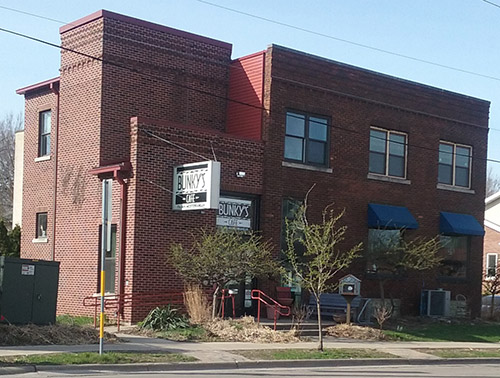 Madison will be saying goodbye to Bunky's Café as a restaurant at the end of this month. One of the city's most popular restaurants, it has been a fixture in the East Side for well over a decade.
They will not be disappearing entirely, however. Bunky's Catering and wholesale businesses has skyrocketed in the last few years. The company will shift focus solely to catering and wholesale.
Teresa Pullara-Ouabel, who owns the restaurant with her husband Rachid Ouabel, opened the business 13 years ago in the building now occupied by Daisy Café & Cupcakery. In 2008 they moved to their current location at 2425 Atwood Avenue.
They will continue to own the building and will still be making it available to rent out for private parties and other events.
The "Bunky's" name has been in existence in Madison for much longer than 13 years. Pullara-Ouabel's great-grandparents founded the originally Bunky's Italian restaurant in the 1930s. It was located at the corner of Park and Regent Streets in the Greenbush neighborhood of Madison.
That building was torn down and a new business took its place called Bunky's Nightclub, which was a very popular spot to see live music in Madison until it closed the 1980s.
Fast-forward to the present day and Pullara-Ouabel is at the end of a successful resurrection of her family's business.
They have always been active in giving back to the east side community, particularly the Atwood neighborhood. Pullara-Ouabel wants to remain a part of the community which helped sustain her very successful business for so long.
Speaking with the Wisconsin State Journal, Pullara-Ouabel said, "We're huge neighborhood people… In the last 13 years we've done a lot of fundraisers (for the community) and that's something that we want to continue to do."
A favorite for Italian and Mediterranean cuisine, Bunky's Café was also well known for offering gluten-free and vegan choices on their menu.
Being gluten intolerant or having a condition such as Celiac disease, a disorder where the person cannot eat most grains such as wheat, make it nearly impossible to dine out. Most restaurants cannot guarantee an entirely gluten-free meal. Bunky's Café was a rare exception.
A number of these popular gluten-free items, such as Bunky's hummus, baba ghanouj, and falafel as well as various desserts are available at Madison area grocery stores now.
Both owners expressed sadness in having to close the restaurant. Ouabel said, "It was a hard decision… We love what we do. The whole package of the business — the people, the food — it was great and is still great."
Bunky's Café is in its last weeks of operation with the final day set for Sunday, April 24. Diners wishing to visit are encouraged to make a reservation as the restaurant expects to be very busy.
Bunky's Café's hours vary. See their website, bunkys2.bunkyscafe.net, or call the restaurant at (608) 204-7004 for more information on hours and catering or to make a reservation for one of these final opportunities to enjoy one of Madison's favorite restaurants.