Time has passed, will the bills?
Protesters claim bills target immigrants, threaten futures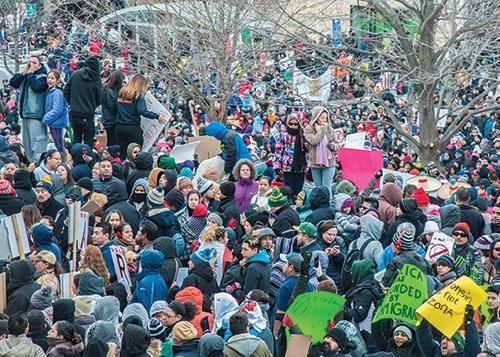 "I am an American citizen but my heart is illegal," one sign read, held up high amongst the thousands of signs in the crowd gathered at the state capitol on Feb. 18 demanding acknowledgment and equality from the government.
According to the Madison Police Department, nearly 20,000 immigrants and allies in Madison to rally against two bills protesters deem anti-immigration.
The day was called "Día sin Latinos / Día sin immigrantes" or "Day without Latinos / Day without Immigrants," as Latinos from all around the state participated in a walkout.
The First United Methodist Church opened their doors to all of the protesters bright and early that morning to provide a large, warm place for families to rest, organize, and eat.
"We answered the call to help," said Director of Outreach Ministries Karen Andro. "We put our faith in action, which means being present in times that are vital, especially in a matter of social justice."
More than 40 volunteers offered their time and energy to help clean, distribute food and attend to any needs of the protesters.
"We're all brothers and sisters, and we are blessed to be able to support one another. Being one block from the capitol, we're downtown for good, meaning we'll stay in downtown for good and do good. Three thousand people from Milwaukee arrived this morning and so we opened early for people to have the chance to organize," Andro explained.
Support from the community earned praise from volunteers and those participating in the rally.
"It's awesome that this place opened up their doors for families to come," said volunteer Krystal Sanchez. "With there being so many kids out of school and it's cold outside, it's a beautiful sense of community for all families to be welcome in here.
"So many people rallying together, including Hispanic and Latino bakeries and restaurants who have donated thousands of pounds of food. We had 40 cartons alone of just pastries, and also burritos, fruit and water. I could have been at the capitol but I wanted to be here, supporting the people who sacrificed this day and their jobs, taking their kids out of schools, to be here," she explained.
Madison College student Zacarias Barnes participated in the protest and liked how it evolved to include all immigrants.
"It initially started as Día sin Latinos," explained Barnes. "But as continuous messages were directed to Voces de la Frontera, the main organizing group of this event, those messages were heard loud and clear, which rebranded and reframed the hashtag, name, theme to more than just Día sin Latinos but Día sin immigrantes."
The bills in question are Senate Bill 533 and Assembly Bill 450.
SB 533 targets those who seek access to publicly funded services and benefits, like FoodShare, WIC, and SeniorCare, preventing them from using identification provided by towns, cities, and local government agencies to gain access to these programs, as wells as for registering to vote.
According to the fiscal estimate narratives provided by the Department of Health, the bill's passing may put the programs themselves in jeopardy. States must comply with the federal regulations of these programs in order to receive matched federal funds.Current federal regulations support the use of any identification "…which reasonably establishes the applicant's identity… ."
Federal regulations also state that no other requirement for a specific type of document maybe imposed. The Dairy Business Association has lobbied against the bill, as well as the City of Milwaukee, Milwaukee County and Wisconsin Council of Churches.
AB 450 would authorize elected officials and police officers to conduct inquiries about the immigration status of anyone legally detained or arrested. If this bill passes, anyone pulled over for a traffic violation would be required to present verification of immigration status if requested.
Out of the 19 groups that have lobbied either for or against AB450, the only three that have lobbied for the bill are the Wisconsin Sheriffs and Deputy Sheriffs Association, the Wisconsin Chiefs of Police Association and the Badger State Sheriffs' Association.