From metal singer to teacher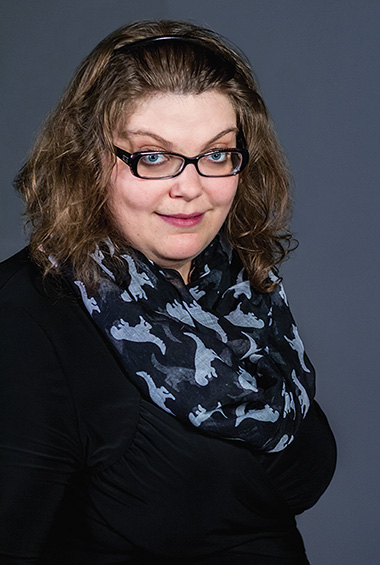 Ana Bon, Staff Writer
October 29, 2015
Visual Communication alumnus and current instructor, Emmalee Pearson remembers how she got her start teaching at Madison College.
"I went from metal singer to teacher," Pearson joked. " I started teaching an eight hour class with my little Goodwill suit."
She joined the Visual Communications program as an "angsty Goth teen," Pearson recalled.
She graduated in 2001. One month after graduating, she started teaching in local businesses.
"I never planned on teaching," she said, rubbing the goose bumps on her arms. "Now I can't even imagine a different path, I adore my job, I don't even think about it as a job. It's who I am."
She advises not fighting serendipity. "Keep an open mind, don't be afraid of risk and chance," she said.
As odd as it might sound, it was her metal band that got her career as an educator off the ground when one of her band members spontaneously offered her a teaching job.
"My guitarist offered me this Photoshop teaching job," she said. "I wasn't sure but I decided over the weekend to do it."
"I bought a suit from Goodwill. I had blue hair at the time and I dyed that brown, so it became like a green color – because I thought I had to fit a certain role of how a corporate trainer should look and so I didn't want people to be distracted by what I looked like," said Pearson
She admits having no previous preparation. "I didn't know how or why or where," she said. She couldn't resist giggling and adds, "Apparently I nailed it, the second day my students took me out to lunch."
"I wanted to be an artist and that's all I really knew growing up," said Pearson. "I never thought of being a teacher, but my biggest influence was a teacher, my grandma."
Many doors opened to her, but not before she faced a bundle of challenges. She was independent, had no car, little money, 21 years of age and facing the realities of life.
She had no transportation and regularly took the bus.
"My students would be leaving in their SUVs and I'd be standing at the bus stop wearing my suit like, bye guys," said Pearson.
She has been teaching ever since.
It wasn't until experience accumulated and years passed that she started teaching at Madison College. She admits being inspired by the quality of work coming out of the college. She viewed applicant's portfolios and noticed how good Madison College graduates were, compared to four-year university graduates.
"I wanted to contribute to that," said Pearson.
She was hired and awarded Distinguished Faculty of the Year in 2012. "Just to be nominated was amazing," she said.
She hopes that one day she will the visual communications program become recognized as one of the best in the nation or at least in the Midwest.
"We are one out of a couple hundred of programs, and there are others schools devoted only to visual communications, like the Madison Media Institute," said Pearson.
"We need to be heard," she said. "Because if they just go by what they hear in the media, they are not going to hear about us."
That's why she is fond of teaching boot camps. She sees it as an outreach for middle school and high school students.
"We will put ViCom on the map, even if it means we have to draw the map," she said.
She also co-advises for the Gender and Sexuality Alliance club on campus and teaches in the summer.
In her free time, she enjoys creating theatrical props for various shows on campus. Pearson's latest creations will take center stage this Friday as part of Madison College's Performing Arts production of "Bone Dane." Pearson designed all the puppets used in the show.
"I like all forms of art," she said. Her childhood was challenging, she went through her parents divorce and art was a coping mechanism.
"There were some sacrifices I made with that trajectory," she said, then admitting that teaching is one of the best things that has happened to her.
"I have a bond with students. I consider the students to be like family," she said. When referring to her marriage that took place on campus, "The reception was mostly students."
"Teaching is the best way to learn," said Pearson. "Whatever you choose to be, be with your whole heart and mind intact.