Annual union re-certification process begins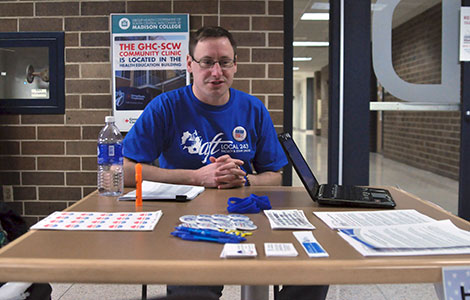 This year marks the beginning of annual union re-certification elections at Madison College.  Since the Act 10 bill went through in 2011, many appeals and adjustments have been made resulting in the current standing law that all unions must vote every year to keep their certification.
The vote must gain 51-percent of not only the current union members but all potential union members.  If a potential member does not vote, the state will automatically cast a 'no' vote for them.
Theresa Valencia, a manufacturing instructor here at Madison College as well as the Remember and Recertification Chairperson on the executive board for the Local 243 union explained how weird and unfair this voting system is.
"It's basically set up to be very difficult.  So, the process is unfair," said Valencia.  "I just think that if any of our, you know, anyone who's being elected to a political office is, if two million of the six million people of the state vote and then the other four you get set up as a no vote to you, that would be a strange election."
Once voting opened, all the membership went to zero, so along with getting people to vote, they need to get members to remember to local 243.
On top of membership, it is now illegal for employees to have their monthly dues automatically taken from their paycheck so they will now have to write a check or make a deposit every month.
But not everything going on is being seen as bad.  Valencia explained that through their outreach efforts and many awareness projects, like phone banking, have brought many of the officers and active members together as well as enlightening many potential members to the benefits of the union.
"Because we needed to let people know how the recertification was going to work, to explain to them whether they were a member or not a member, because we need everyone to vote, so by making that effort to talk to people about the recertification it gave us an opportunity to talk to them about remembering also," said Valencia.
Voting runs from April 1 through the 21.  Although the official numbers will not be released until after the election, the members of the union here will continue to fight for their union certification.
"Act 10 was set up to drain the money from the unions, so if we are not collecting dues, we need to increase our membership so that we're not constantly having less money than we're taking in.  But that's what it was set up to do, but I'm not a quitter and neither are a lot of people I work with," said Valencia.
"We just keep fighting and fighting and fighting and trying to help people understand how important the union is.  We've gotten to where we are now, whether it's our wages and benefits and times are so tight right now financially for the college, so it's give and take on everyone's part.  We just don't want it all taken from us and the union really helps."