Racial disparities are a community challenge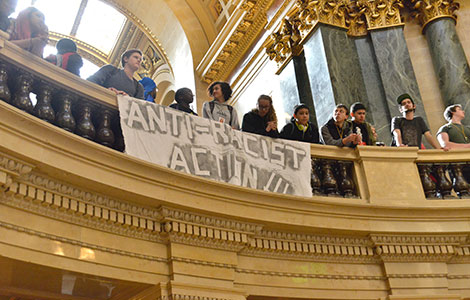 It has been 50 years now since the Selma to Montgomery marches, led by Dr. Martin Luther King Jr. and other Civil rights activists, flooded the airwaves, newsstands, and jail cells of this country, and while so much has changed, much remains the same.
When asked what he thinks is meant by "Black Lives Matter," Dr. Jack E. Daniels, President of Madison College, says that the statement transcends many cross-cultural and community issues: impoverished and struggling neighborhoods; a school system that fails to instill vision in its young black children; something of a dead end in small business ownership and a lack of entrepreneurship.
He admits that these are problems our society must address, but he also concedes that each problem is really an opportunity. That approach could lead to solutions and establish a sustainable change, not only for the Black Community, but also for the Madison Community as a whole.
In my conversation with Dr. Daniels, he spoke of his youth in Chicago. He remembers the marches led by Dr. King, pursuing the rights of blacks in America to vote, and for the immediate improvement of black lives throughout both the South and the North. He went on to describe a Chicago that, at that time, was "the most segregated city in the country."
"Over these last few years – decades – we've had lots of studies done, lots of interviews done, surveys, a program here, and a program there," he said. "The issues that I have with programs, is that if you're going to try to solve something [with a program], it's not a behavioral change. It's just a program; a program has a beginning and an end. We have to have something that's sustainable."
I asked Dr. Daniels about his thoughts on the continuing disparities amidst the black community and how to improve upon what has been accomplished in the 50 years since Dr. King and many, many others crossed the bridge into what has been dubbed "Bloody Sunday." He sees an issue that stretches across a broad spectrum of systemic racism.
"If we're going to talk about improvements, enhancement, we need to break that down into various segments. What does it mean when we talk about economic development? What does it mean when we talk about education? What do we mean when we talk about the psychosocial processes of the Black Community? I believe that we operate in silos at times, and when you operate in silos, you get one particular perspective. That one perspective never talks to the other one. So, there's no collaboration. There's no partnership. What is the actual interest that we [the Madison Community] have? We are trying to have equity – inclusion, as opposed to maintaining where we are currently, so that growth occurs.
"So what are the interests that we have to look at when we talk about race relations and racial disparities? There's a huge disparity in terms of economic development [in the Black Community]. Where are the small businesses, and how do we grow those businesses?"
He went to say that it is exceedingly difficult for a struggling community to rise economically when it lacks the capital to do so. The old adage that one should simply pull themselves up by the bootstraps, and achieve success regardless of a crushing economic handicap, such as systemic racism, is not applicable.
Activist groups, like Young, Gifted & Black, are working tirelessly, organizing marches, rallies, and sit-ins, to encourage intervention in the issue of racial inequality in the city of Madison. For more information on Young, Gifted & Black, and ways to contribute, check out their Facebook page at www.facebook.com/fergusontomadison.