Walker wins re-election
Republicans take the state and U.S. Senate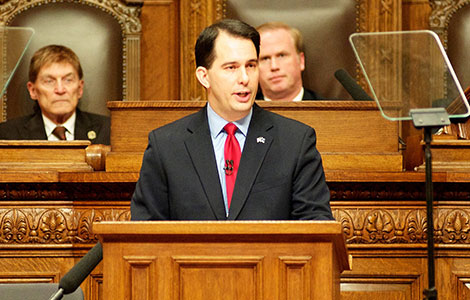 Gov. Scott Walker won his third election in four years and will remain governor of Wisconsin after defeating Democratic challenger Mary Burke on Tuesday night in the Nov. 4 election.
The most expensive midterm election in American history ends with Republicans maintaining their control of the state senate and seizing full control of the U.S. Congress.
Gov. Walker won by a margin of 52.3 to 46.6 percent. Burke drew much of her support from Madison and Milwaukee, but it was not enough to beat the incumbent Walker.
Republicans held an 18-15 majority in the state senate heading into the election and ended up gaining a seat for a 19-14 majority.
Rep. Brad Schimel won the Attorney General race over Dem. Susan Happ by a margin of 51 to 45 percent. Dem. Bob La Follette will return as the Secretary of State, beating challenger Julian Bradley.
Dem. Marc Pocan will remain the U.S. House District 2 representative and Rep. Paul Ryan won reelection for U.S. District 1 by a large margin of 63 to 36 percent.
The transportation referendum passed easily and Wisconsin will amend its constitution to keep money allocated to the transportation fund from being used for other expenditures.
A minimum wage referendum also passed in Dane county. This will give county government the green light to begin discussing a hike in the minimum wage.
Nationally the Republican Party took control of the Senate and won many key governors' races across the country.