Scott Walker talks budget, school accountability plans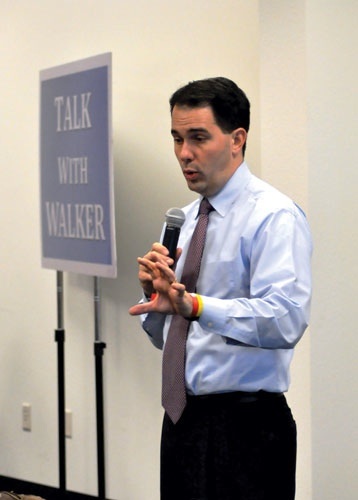 Scott Walker has recently had a lot to say about education. Students and administrators may want to listen a little closer.
He has a few goals going into the next budget, one of which is his accountability plan for educational goals and outcomes.
A future state budget is slated to tie dollars to school performance. Depending on their course of study, Madison College students could feel the effects.
The governor visited Virent, a clean fuel biotechnology company near Truax, on Dec. 12.
As part of his newly launched "Talk With Walker" tour, the governor discussed his tentative plans for education with a small crowd of Virent employees, Among the topics discussed in addition to education were job creation, workforce development, government reform, and investment in infrastructure.
Last month, he began the "Talk With Walker" tour around the state in order to get a grassroots view of Wisconsinites' concerns of his budget priorities before he meets with the state legislature in February 2013.
He has received criticism for the restricted access of these sessions as, thus far, they have only open to business employees, pre-registered attendees and credentialed press.
One of the aims of these idea-generating sessions is to map out a plan for incentivizing primary, secondary and post-secondary schools to achieve better outcomes.
"Are there better ways that we connect the dots in terms of giving, putting new money in our technical colleges around the state? Whether it's MATC or other technical colleges around the state?" He asked, "can we tie some of that into areas where we know there's a great need and great opportunity?"
Walker also discussed exploring more flexible options for non-traditional adult learners, for whom time and money are often obstacles for meeting education goals.
"We've got to figure out a better way of taking people who are either looking for work because they're unemployed or looking for work because they're underemployed and connect them with the skills, connect the dots, to get them where we know there are job openings," he said.
When asked to describe how his plan might affect Madison College students, he said that performance outcomes could mean reallocation of state funds to more in-demand areas.
"What it would be more of in our technical colleges in particular is saying we're not going to cut funding, but as we add more funding, at least in some area as we add more funding, we're going to try target it in the areas where there's the greatest need," he said.