Awards banquet celebrates student success at Madison College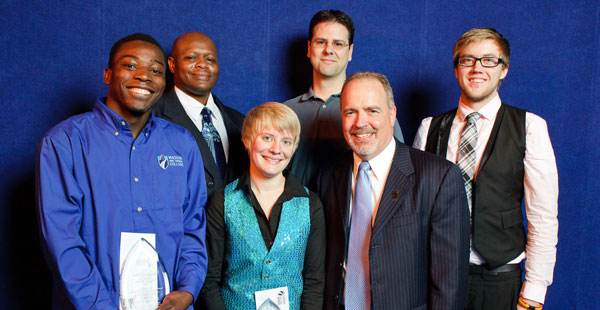 Clarion staff report
May 8, 2012
Hang on for a minute...we're trying to find some more stories you might like.
Members of several student clubs and organizations were honored during the annual Celebration of Student Success held on April 25th. The event was organized and run by the Executive Leadership Team to recognize individuals and groups for their contributions to the Madison College community.
Five students were honored as winners of the Karen Roberts Student Life Leadership Award. The students honored were Lea Staedtler, Anthony G. Bortz, Reggie Hoskins, Ousmane Kabre and Carl Peterson.
The recipients were presented with a plaque and a $200 prize from an endowed fund established in the name of Karen Roberts, who served as the Student Life administrator during much of her 31-year career at Madison College.
Twelve students were honored as Exemplary Learners of the Year, representing each school at the college. Those students and the schools they represented were:
• Agriscience and Technologies – Denise Johnson and William Kahn.
• Arts and Science – Sean Hubbard and Katrina Simyab.
• Business and Applied Arts – Emily Cauthen and David Barbian.
• College Preparedness and Academic Advancement – Joel Villarroel and Micaela Sebastian.
• Construction, Manufacturing, Apprenticeship and Transportation – Gerald Pope.
• Health and Safety Education  – Kenneth Kloes.
• Human and Protective Services – Jill Wiebe and Nate Much.
Four students were recognized as Arts Students of the Year. Winners of the Visual Arts Student of the Year award were George Treviranus and Nicholas Loveland. The Performing Arts Student of the Year award was presented to Jacob Fischer and Nicole Hageman.
The World Student Association was selected as the Outstanding Student Club for its efforts to bring together local students and international students in club activities. United Common Ground was honored as the Outstanding Student Organization of the Year for its work to educate the campus community on issues such as racism, diversity and social justice.
Business Professionals of America advisor Jeff Quinlan was recognized as Outstanding Club Advisor of the Year. The students in the Business Professionals of America received the Outstanding Student Group Community Service award for their work with Toys for Tots, a food drive at Madison College and other projects.
The Meeting Planners Association received the award for Outstanding Student Group: Academic Achievement. The cumulative GPA of the club was an incredible 4.0.
A number of individual awards were also presented.
Outstanding Student Employees of the Year were Michelle Dietzler, Myron Petties and Samantha Tesch.
Outstanding Student Tutors of the Year were Carol Fletcher, Josh Nevel and Jordan Siewart.
Ric Poole received the Student Senate Leadership Merit Award. Johanna Hewitt, Cody Shingler and Ciara Hill were named Student Ambassadors of Distinction.
Also this year, a new award was presented, the Intercultural Council Student Award for Inclusive Excellence in Ethnic Diversity. Award winners were honored were Ashley Staley, for her work as the Contemporary Issues Chair with United Common Ground, and Virginia Escudero, for her involvement in diversity initiatives both on and off campus. Each winner received a $100 award and recognition certificate.
Finally, Madison College student Spencer White was recognized by Dr. Keith Cornille, Vice President of Student Development, for receiving the Newman Civic Fellows Award.