Cosplay makes Comic Con fun
Hang on for a minute...we're trying to find some more stories you might like.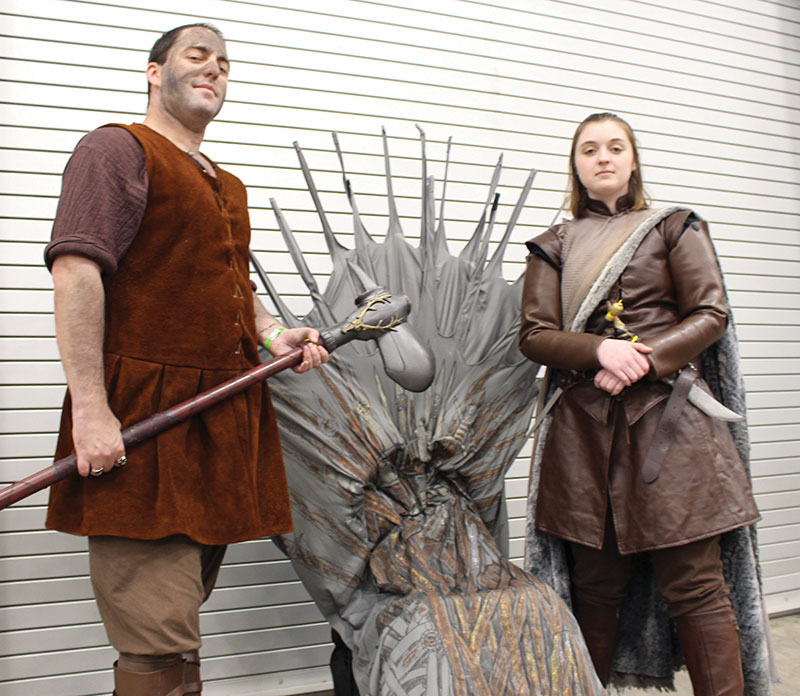 When I was in high school, I had an obsession with musicals, Japanese anime and superheroes. I collected the nerdiest things I could get my hands on and spent day and night with my nose stuck in a fiction novel instead of socializing.
Back then, I was ridiculed. Kids relentlessly called me a nerd, and I had few friends.
But now, being a nerd is on the rise. And oh, it feels so good to finally connect with people who have the same fascinations as me.
Like cosplay.
A contraction of costume play, cosplay is considered a performance art. Fans create or purchase costumes of their favorite film, book, video game, or television show. The most popular place to cosplay is at an event that is quickly growing in population all over the world: Comic Con.
Started in the 1970s, the first Comic Con only drew about 300 people, but now thousands flock to major cities hosting the often weekend-long trip into a fandom many people only hold in their imaginations.
The excitement doesn't stop there, though; comic conventions are just a tip of the iceberg. As more and more people demand to see what and who they love included, the more types of con crop up.
There's conventions for anime, for indie authors, for tabletop gaming, and for furries (those who dress up as animals that have human characteristics). There are cons strictly based around a particular show, like Dr. Who or Harry Potter, and some that are less specific, focusing on a whole genre instead, such as steam punk. You name it, there's probably a convention for it.
Earlier in November, Gamehole Con came to Madison, bringing together people with a love for gaming, miniatures, and role playing. The first weekend of December, however, brought Wizard World to our great city, which produces a multigenre fan convention for people to enjoy all over North America.
One of a kind collectibles can be browsed and purchased, with fantastic deals to be had at almost every vendor booth visited. There are games to be played and prizes to be won. And don't forget the celebrities who, at a price, will sign something or take a photo with you. It's definitely the place to be if you want to have a few moments of face time with people such as William Shatner, Matthew Lewis, or Jason Ralph (to name a few that were there this year).
The most diverse and exhilarating part of any type of convention, however, is getting to see the endless different costumes fans create and wear to the events.
What started out as almost a masquerade shortly after the first Comic Con was held, cosplay has grown rapidly, turning into a way for people to delve much deeper into their favorite fandoms and to connect with others with the same passion they hold. A large portion of con attendees are dressed up in some way, and even vendors behind their booths wear a costume at times.
It is exhilarating to be around total strangers that completely understand you. To feel you belong to a community full of exactly what you love. Cosplaying at a convention brings a wonderful feeling, heightened each time people come up to you asking for a photo of your creation. I can attest to how leaving a convention at the end of a fun-filled weekend dressed as my favorite character from Lost can bring on slight sadness. But the memories taken from the con burn bright through the months until I can attend another.
Whether you embrace your nerdy side with a fierce passion or you are curious to see impressive cosplay and experience a weekend like no other, be sure to give Comic Con – or any con – a try. You won't be disappointed.