Wizard World Comic Con brings together actors, writers, fans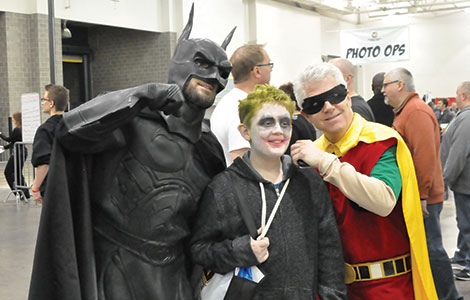 On Feb. 6 through Feb. 8, Madison hosted its first-ever Wizard World Comic Con at the Alliant Energy Center. Featuring over 90 exhibitions, forums with Q & A from TV's most notable stars, panels, and 68 unique artists from all walks of life, Comic Con was blazing with talent, fame, and childhood memories.
Tens of thousands were expected to attend Wizard World's three-day event, flooding in from nearby cities and states. 10 years ago, an event like this would've barely scraped the media's attention. However, over the past decade, multi-million dollar franchises such as "X-Men," "Spiderman," and "Batman" have stunned Hollywood, making comics a part of everyday life and pop culture.
Now you may be wondering, what is Comic Con anyway? In 1970, comic letterer and artist Shel Dorf created the Golden State Comic-Con, hoping to bring together a little over 300 of San Diego's diehard comic books fans. Today, San Diego Comic-Con International is now the top pop culture convention in all of the United States, spreading across major cities throughout the United States. The Comic Con event held in Madison was a similarly themed convention put on by Wizard World Inc., but not affiliated with the original Comic-Con.
Jeff Butler, who contributed to famous works like "Dungeons & Dragons, Xena," "The Green Hornet," and Wisconsin's very own comic series "The Badger" said, "The question isn't 'why is Comic Con in Madison' but 'what took so long for Comic Con to be hosted in Madison?' It's a great atmosphere being a college town and having lots of creative arts venues."
Walking in, there were rows and rows of tables displaying surrealistic art, graphic design, original comic books, toys and other "nerdabilia," as one attendee called it.
Jesse and Arielle, two first-time attendees commuted down from Janesville to be a part of the show, dressed as Bilbo and Galadriel from "The Lord of the Rings." "It's great to see all the creative outfits people come up with, and how many of them even went so far as to design their own," Jesse said.
A 1966 replica of the Batmobile was used as a prop in a Batman juniors family shot, while on the other end of the venue, fans were "riding" the hovercraft connected to the DeLorean time machine from "Back to the Future." Artists from all around the country who had gathered in Madison were proudly displaying their work, and if they weren't actively sharing their unique and amazing stories, they humbly drew fictionist characters in sketchbooks.
"I'm actually just an art teacher at a high school on the south side of Chicago," said artist Rich Kunz as he effortlessly sketched a D.C. Universe super villain, Harley Quinn. He exhibited hundreds of his sketches bought by several different companies.
He continued, "I've always been into comics, and when I was younger, I'd walk around these kinds of conventions, showing different exhibitors my artwork, and one day, one of them said, 'Why not get your own table? Your drawings are good enough'." Ever since then, drawing has been Kunz' "vacation from his day job."
A few tables away, with an exhibition of juggler hats, elf ears, and weapons, illustrator Christopher Coatez and his girlfriend lured viewers to his table with the simple question, "Do you have a heart?" They traveled all the way to Wisconsin from Arizona. Coatez said, "One day, I just wanted to make a juggler hat, and so I did, and my girlfriend kind of forced me to make more and to sell them, and here I am, two years later, selling these hats and other cool stuff for the fans of these awesome franchises." The couple offered personalized pin-on hearts for anyone who donated to Coatez's Kickstarter, which will be used to pursue his dream of creating his own comic strip.
Meanwhile, if all of the children dressed up as mini superheroes, villains, princes and princesses weren't busy being photographed for their cuteness as they walked around the arena, they were shooting at life-like zombie posters in 'Zombie Zone', something I'm sure every parent could only dream their child experiences. Dozens of fans waited to get their 85-dollar autograph from "Vampire Diaries" star Ian Somerholder or 80-dollar autograph from William Shatner. Other actors perhaps less known to this generation such as Lou Ferrigno ("The Incredible Hulk"), Billy Dee Williams ("Star Wars"), and William Kircher ("The Hobbit") also made an appearance. "I'm happy to be here, Comic Cons are always great," Kircher said.
"Comic Con is a ton of fun, I'm having a blast," said Michael Cudlitz of AMC's hit show, "The Walking Dead," who plays Sergeant Abraham Ford. It seems to be only a matter of time before Comic Con type events are available in every large city around the nation, as comics and superheroes become more a part of everyday entertainment. So suit up and get ready, because according to the Wizard World website, Comic Con is due back in Madison in 2016.