Student visits Costa Rica, recalls experiences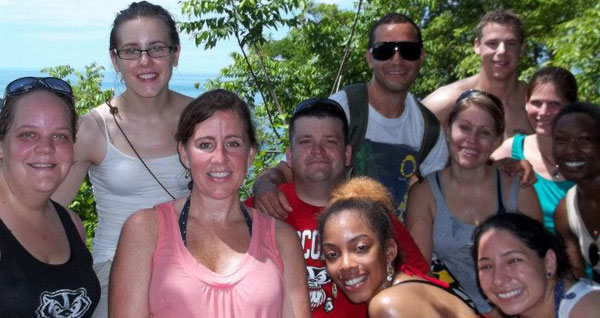 Laura Ketterhagen, Staff Writer
October 9, 2012
Studying in Costa Rica this past summer was one of the greatest decisions I have ever made, and I am very excited to be returning again next summer. I had some of the best experiences of my life and improved my Spanish immensely. Between the great friends you make on the trip, the fantastic teaching, seeing beautiful natural sights, exploring a new country and the wonderful experience of living with a host family, it was the greatest summer of my life.
When a student came and gave a presentation on the Costa Rica trip to my Spanish class during my first semester, I got very excited because the trip looked like so much fun. As soon as I was able to, I found the application on the Madison College website and quickly wrote the application essay and sent it in.
Living and studying in Costa Rica had a huge impact on my ability to speak and understand Spanish. Even though I have been studying Spanish for quite a while, I was always nervous about speaking Spanish outside of the classroom. This changed after this trip, due to the wonderful teaching in Costa Rica and the welcoming host families.
Living with a host family is one of the greatest ways to learn a language. Some of my favorite memories from the trip were the hours I would spend conversing with my host mom after dinner. After making a delicious dinner of chicken, rice, plantains and her homemade ice cream. We would spend hours talking and she would give me endless amounts of life advice and stories.
The Spanish instruction was perfect. Usually there were only about 4 or 5 people in a class, so instruction was very individualized. The teachers were all fantastic and made learning fun by utilizing hands-on activities and having interesting conversations with us, instead of just lecturing.
There was never a dull moment on the Costa Rica trip. There were fun activities and places to visit all the time, from hiking through the rainforest to a pristine beach in Manuel Antonio, having a very close up view at a live volcano, or simply exploring the city that we lived in. I took full advantage of the optional cooking classes, dance classes, extra excursions, trips to the discos and anything else that came my way. Costa Rican cuisine is some of the best I've ever tasted, and portions are never too small.
After returning, I made the decision to major in Spanish, so it really was life changing for me. I would recommend this trip to anyone who wants to have an amazing, once in a lifetime experience, while learning Spanish in a lively environment and forming great friendships. Pura Vida.