AJ bombards rivals with social media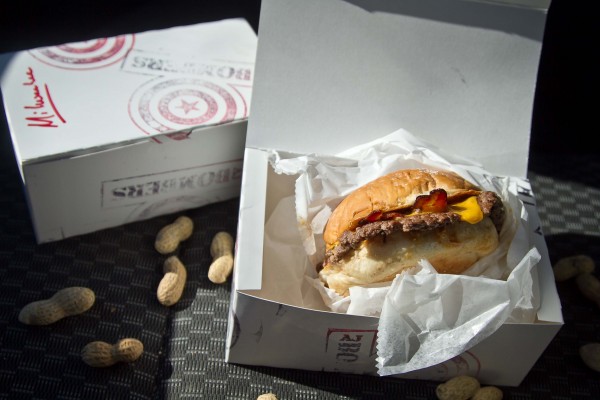 College towns always seem to be on the trendy edge of things, and the recent rise of "boutique burger" joints has not passed over Madison. These kitschy themed restaurants – some of them chains, some local – have been edging in on the quick, casual market traditionally dominated by companies like Panera and Noodles.
These odd food destinations often utilize social media to spread awareness and build a cult following, and it seems that AJ Bombers is doing it right. Founded in 2009 the Milwaukee based burger joint used sites like facebook and twitter to hold contests and take polls to get information on how best to serve and draw in customers.
"Social Media is all about the content," said Steve Noll, Madison College Instructor. "What they (AJ Bombers) have done is narrowed their focus to the customers that would already be likely to eat there."
Steve said that Bombers has figured out that they don't need to win over every person to be successful, so they feature things like "Burger Porn" and pictures of bacon on their facebook and twitter feeds. That is another draw of social media, is that it is cheap. What used to take thousands of dollars in advertising can now be spread in a matter of hours to almost every student on campus at practically no cost to the restaurant.
"The sort of people who would be offended by a term like 'Burger Porn' weren't going to go and buy a burger, some fries, and a beer anyways, so they're not worrying about offending those people," Noll said.
AJ Bombers has held contests to see who can come up with the best new burger idea and then they sell it. It's a great idea because customers become involved with the restaurant. If the burger that they voted for wins, they're probably going to stop by at least once to try it. This ingenious use of social media gained them enough popularity to compete on and then win Travel Channel's "Best Burger in Milwaukee" title. Now, only two and a half years after it's founding, AJ Bombers has come to Madison to carve out its own place in our cities' vibrant food scene.
"Texas Roadhouse during Wartime," instantly comes to mind as you walk into the industrial space, which sports a color scheme similar to a WWII military convoy. Peanut shells crunch underfoot as a friendly server guides you to your table, and bombs loaded with peanuts fly overhead and drop their payload into chutes, which brings them right to your table. Needless to say, those sensitive to such foodstuffs should probably be wary.
Menus are disposable slips of paper, which are filled out by the customer at the table, which speeds up the already fast dining experience. You can be in and out in about 30 minutes, which is quick for a sit-down restaurant.
The best burger in Milwaukee is pretty good, if a bit formulaic. Meat, cheese, bacon and onions make a surefire recipe for success when done well, and it is. It's good enough to enjoy again, but not exceptional enough to separate it from Five Guys or Culver's, or to make it a landmark.
The Barrie Burger, a product of the company's social media work, features peanut butter and bacon. It is surprisingly tasty for those who like things sweet and salty. It also tastes different depending on how you hold it, either right side-up or upside-down.
AJ Bombers is a textbook example of how being market savvy can make all the difference when it comes to getting your business to standout in a restaurant saturated area. Using inexpensive tools to market and advertise themselves should help them gain a foothold in the Madison market. What would really seal the deal is making their food as unique as their restaurant's style and ingenuity when it comes to marketing.