More than 40 clubs complete the registration process for this year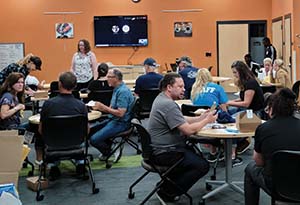 The beginning of the school year is a busy time for students, staff and clubs. Clubs begin the year before students are here. The Executive Leadership Team takes the lead and is tasked with re-registering existing clubs, helping new clubs begin, sharing information about funding, advertising and events with clubs to help them succeed and involve students.
The Executive Leadership Team began with an advisor luncheon on Aug. 24, informing advisors of changes to the incentive program and increases in available funding. Following the advisor luncheon the re-registration process officially began. The Executive Leadership Team started receiving dozens of emails from officers and advisors containing club information forms, rosters and bylaws.
The re-registration process officially wrapped up on Oct. 7, although the Executive Leadership Team has said it will continue to accept updated rosters and paperwork for students who want to create a new club.
The last step in the re-registration process for clubs is to have a Club Officer Orientation meeting. The Executive Leadership Team hosted two meetings, one in-person and one virtually on Oct. 12 and Oct. 13 with more than 30 officers attending between the two events, representing 17 clubs. If any club officers missed the meetings, the Executive Leadership Team will be sending out an orientation makeup video. They will also be hosting two more club officer events on Nov. 15 and Nov. 17.
This year the clubs at Madison College are looking to build on last year's growth and activity. The 2022-23 year has more than 40 clubs with 10 new clubs for students to meet, learn or develop skills. Of the active clubs, Madison College is proud to have 11 identity clubs such as La Raza Unida, Gender & Sexuality Alliance (GSA), Black Student Union (BSU), Native Americans Student Association (NASA) and Veterans Club. Madison College also has 11 Leadership Organizations including Student Senate, Volunteer Center, Phi Theta Kapa (PTK) and Clarion News and Broadcasting.
For students looking to learn more before entering the workforce, Madison College has 22 clubs for program students from Business Professionals of America (BPA), Student IT Club, to Automotive Club and Student Nurses Association (SNA).
Madison College continues to grow and expand its clubs and resources to students, with help from students. The Executive Leadership Team and Student Life highly encourage all students looking for a place to meet others, create an environment for others or enhance learning and experience to come to Student Life or contact the Executive Leadership Team for help in finding a club that best suits you.