WolfPack volleyball serves up more wins this season
Young team has already surpassed its victory total from last season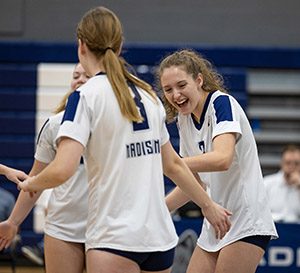 With a 3-1 win over Western Technical College on Sept. 27, the Madison College volleyball team has matched its entire win total from the 2021 season.
Not only that, but after two wins in the Morton College Triangular in Cicero, Illinois, the WolfPack improved to 17-8 on the season and are on pace for their most wins in a season in five years.
This is even more impressive given that eight of the nine players on the roster are freshman and head coach Mallory (Dixon) Stone is in her first year of being the head coach.
Dixon is a former Division I college volleyball player at UW Madison and then as a graduate transfer at the University of South Carolina.
After the win over Western, Stone stated how proud she is of how fast the young and inexperienced players were able to gel and started playing and giving effort as a team rather than as individuals.
Dixon also mentioned how her team makes it a point of emphasis to go into every match believing in themselves and expecting to win, a trait that is important in sports in general, but especially collegiate sports. Upsets happen in college sports more than in anything else, and team spirit as well as believing in your teammates just as much as you believe in yourself will always give your team a chance.
Health could also be a concern this season given that the squad has such a small number of players with only nine, which gives little room for error.
Dixon says the team's close bond and trust in each other helps with this and the smaller number of players allows for more team chemistry that could help the team as conference play picks up in October.
Now is the time of the season when you want to be playing close to your best and it certainly seems like the WolfPack have started to heat up, having won five of their last six games going into a home match against Harper College on Oct. 4.
After that the team has four remaining regular season games before the NJCAA Region 4 Tournament begins later this month. By then the team hopes to get to 20 wins in a season for the first time since 2017. The NJCAA Division III National Tournament is in Rochester, Minnesota, in November, and Dixon believes that this team's potential can take them there.
Madison College 3, Harper College 0
A season-high 16 blocks led Madison College to a 3-0 victory over Harper College on Oct. 4, improving the WolfPack's record to 18-8. Mackenzie Plunket led the way with seven blocks and four kills, while Gabby Hack added five blocks and six kills. Sophia Venne added seven kills and two blocks.
College of DuPage 3, Madison College 1
Madison College battled hard against the No. 2-ranked team in the nation before falling, 3-1, to the College of DuPage on Oct. 6. DuPage won the first two games, before Madison College claimed the third game, 25-21. DuPage claimed the final game, 25-22, for the win.
Kendall Weisensel led the team with eight kills, 16 digs and four aces. Tyra Anderson followed with eight kills and an ace. Daryn Schaefer recorded 16 digs and 29 assists.