Madison College's chapter of the Phi Theta Kappa Honor Society inducted 124 new members during a ceremony in Mitby Theater on Nov. 9.
In addition, the group recognized 13 instructors and staff members as recipients of the Golden Apple Award.
Phi Theta Kappa officers Morgan Witthun, Barbara Bahr, Flore Nikiema, Alex Valand, Ashley Mone, Bridgett Moss and Manasvi Nalluri presided over the induction ceremony. Madison College President Dr. Jack E. Daniels, III, was the guest speaker.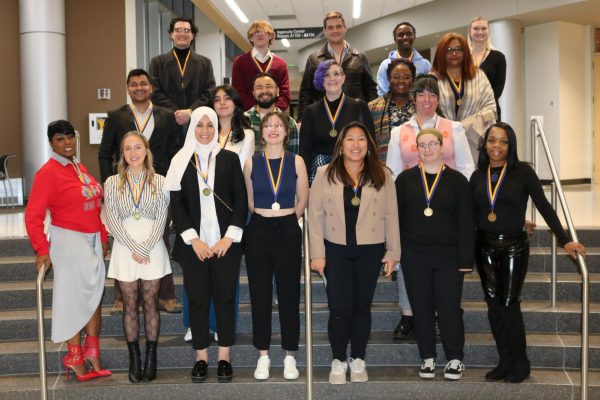 Newly inducted Phi Theta Kappa members include:
Balaji Abishek, Nick Ahnen, Dylan Arbelaez Henao, Afi Atsou, Erin Balsavich, Felicia Barrios, Bridget Bellehumeur, Taylar Birkett, Gemma Blair, Kayasia Blake.
John Bogan, Sarah Bong.Anthony Bonura, Brandon Brekke, Daniele Brier, Kai Brito, Melissa Bryan, Arnold Card, Claire Carroll, Mackenzie Carstens, Kaitlyn Castro.
Shavone Chandler, Francesca Cina, Valentino Corona, Richard de Lima, Jesse Drake, Ava Eckhart, Alex Elliott, Jordin Elzen, Mehmet Ercan, Rebekah Erkkila.
Flynn Ewer, Kayla Feulner, Mikah Fowler, Rogue Frank, Jammie Freaner, Hattie Frisch, Cheme Gagyapontsang, Johnny Grant, Fatima Garwo, Deborah Gillitzer.
Lavara Gilpin, Matthew Godfrey, Ian Goetz, Sophia Greger, Garrett Gruetzmacher, Kenza Haddad, Thomas Hanson, Ruby Haugh, Ezra Hawke, Anthony Heim.
Monica Hernandez, Marissa Houdek, Derek Iszczyszyn, Jessica Jessmon, Andrew Johnson, Brayan Christopher W. Kabore, Coleman Klapheke, Kodiak Koessl, Kalev Kristjuhan, Khuyer Kue.
Macy Lacourse, Nora Lavalley, Stephanie Le, Claire Liddicoat, Panagiotis Lorandos, Maha Loubani, Evan Maier, Jada Matson, Henry Maysack, Shayla Mendonca.
John Misasi, Britney Montoya, Kyler Morgan, Stephen Morrison, Natalie Nickolas, James Noyd, Ogaga Okumagba, Tannis Olsen, Andrew Ott.
Christian Ott, Maria Pachon, Katlyn Pertle, Jaquan Pierre, Clark Piper, Artem Poboinyi, Anita Pradhan, Luisa Prieto, Abdelkarim Ramdani, Jackson Rasmussen.
Heidi Ray, Thin-Thin Rodgers, Karina Romero Ruiz, Andres Ruiz Perez, Maryna Sahaida, Carly Schneider, Brady Schroeder, Noa Schueller, Susan Schultz, Maverick Servillon.
Craig Shea, Savannah Shropshire, Shakti Shukla, Misty Sivongxay, Jacob Snow, Hayden Sonzogni, Ashley Sorenson, Rain Sparkman, Charly Sparks, Jake Stark.
Kierra Steffes, Cassiopeia Swissdorf, Adrian Thomas, Taryn Tsingine, Lucas Van Ness, Athena Vang, Angela Vazquez, Ana Celia Villarreal, Sarah Voelz, Britney Wemmer, Jaclyn Williams, Sean Zimdars.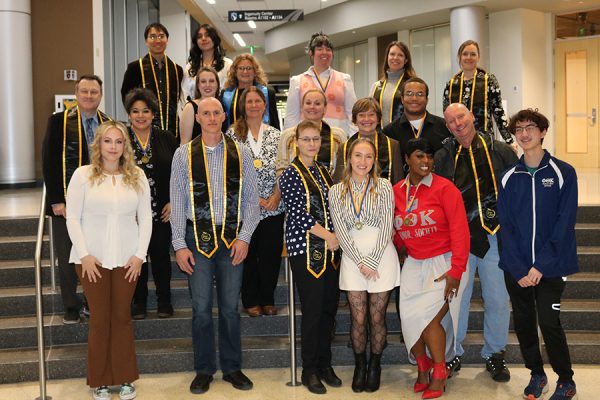 Golden Apple Award recipients were:
Renee Alfano, director of Student Life.
Mikael Snitker, psychology instructor.
Marty Crabbs, strategic projects and initiatives.
Betty Hurd, fashion marketing program director.
Denise Holin, student health educator.
Jody Cooper, paralegal instructor.
Edward Dawson, basic education instructor.
Jong Bum Lee, mathematics instructor.
Karen Saari, communications and performing arts instructor.
Claire Lind, early childhood education instructor.
Craig Kleinsteiber, automotive technician instructor.
Mark Luetkehoelter, librarian.
In addition, Alfano was inducted as an honorary member of the honor society.
Story continues below advertisement