The Madison College Baking Lab recently had a special visitor – the 76th Alice in Dairyland, Ashley Hagenow – who spent quality time with students in the Bakery and Decorative Arts Program. After serendipitously meeting at the Wisconsin State Fair during Hagenow's butter presentation, Madison College baking instructor Cheryl Weise invited her to visit the college's baking students in mid-October to discuss dairy.
"I think it is so important to have speakers like Alice in Dairyland speak to the baking students. After all, agricultural products are critical to the baking industry, and the two industries are inextricably linked economically. It is important for future bakers to learn the direct economic impact the agricultural industry can have on a business's bottom line," baking program director Suzanne Daly said.
A tradition in Wisconsin for over seven decades, today, Alice in Dairyland is Wisconsin's agriculture ambassador, with the goal of educating audiences across Wisconsin about the state's diverse agriculture industry. After a rigorous selection process, Alice in Dairyland is awarded a one-year, full-time public relations position with the Wisconsin Department of Agriculture, Trade and Consumer Protection.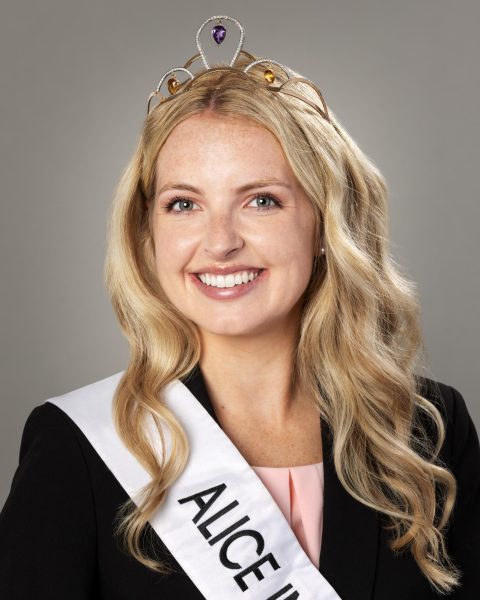 This year's Alice in Dairyland, Hagenow, is a recent graduate of the University of Minnesota, where she earned her bachelor's degree in agricultural communication and marketing, with minors in animal science and agricultural and food business management.
Hagenow was warmly welcomed in the baking lab for Weise's experimental baking class. She quickly got down to brass tacks, discussing the science behind dairy products critical to bakers – butter, milk, heavy cream, yogurt and more.
She emphasized that knowing the details of the processing and composition of each dairy product is important when using these products in baked goods. Further, she explained that this is especially important when a baker is searching to substitute one ingredient for another. The students were vocal on this point, relaying to Hagenow the "horror story" of substituting yogurt for butter in one of their biscuit recipe experiments.
"Ashley's knowledge and professionalism presenting to the students was terrific. I was also pleased that she reinforced what we were studying in experimental baking class," Weise said. "As their instructor, it was gratifying to see the students enthusiastically engage with Ashley."
With the holidays fast upon us, Hagenow also shared some seasonal statistics.
"Butter sales peak in November and December each year as home cooks ready their holiday recipes to share with family and friends. In Wisconsin, retail butter sales are 39% higher than average in November and 36% higher in December," she said.
Hagenow had never been on the Madison College campus before and was able to take a tour of both the Culinary Arts and Baking and Decorative Arts facilities. Meeting many faculty members, she expressed how impressed she was with the quality and scale of the facilities for both programs.
"What a great place to provide a hands-on education in the baking and culinary arts and what a wonderful and diverse group of students. I learned just as much from them as they hopefully learned from me," Hagenow said. "I also loved the baked goods. I'll be back for more!"
Story continues below advertisement