A little more than two years ago, Gabe Voung thought his soccer career might come to a close after high school.
Now he is Madison College's career leader in goals scored and hopes to continue his playing career at a Division I school.
Voung had all the credentials coming out of Sun Prairie High School. He was first-team All-Big 8 Conference as a senior, an all-state honoree and finished with 26 goals and 16 assists.
"I wanted to keep playing after high school," Voung said. "But the schools I wanted to go to didn't think I was good enough to play for them. I got really depressed and was going to just attend school and not play."
"My family and friends encouraged me to keep looking and playing, and I eventually reached out to Madison College and it was a perfect fit," he said.
Voung rewarded Madison College with a record-setting 25-goal season as freshman in 2022, setting the school's single-season record and leading the NJCAA Divsion III in scoring.
This year, he set another milestone by scoring 10 more goals to become the school's career leader in goals scored with 35.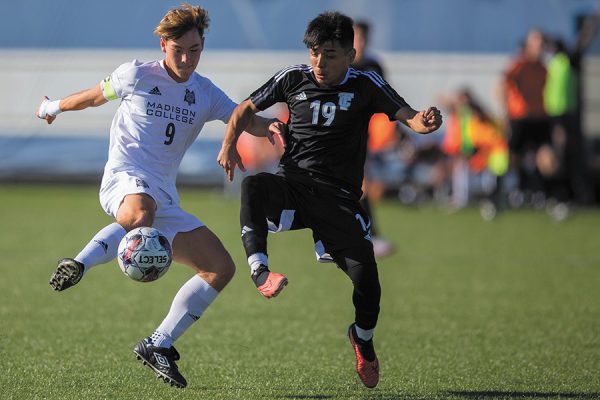 "I feel great finally being able to achieve this milestone," Voung said. "After last season this had kind of been on my radar. I knew that it was something I could reach as long as I had a decent season."
But it didn't come easy.
"During the few games prior to the one I broke it in, I struggled scoring and it kind of made me worried. When it actually happened, I was kind of in disbelief," Voung said.
Voung tied and broke the record in the same game, scoring twice against the College of Lake County on Oct. 14 to surpass the former record of 33 goals, held by Toby Andrews. He added a goal against the College of DuPage in his final match, putting him at 35 career goals.
"I didn't really know what to do or feel and was just so thankful for the opportunity and that I was able to achieve this record," Voung said. "I want to point out that I don't think all the credit should be on me. There are plenty of talented people to come through this program and not get close to the record."
"I think that my teammates played more of a crucial role than me in achieving this goal," he said. "They provided me with the chances to score and they defended and held us in games. I think my coaches played a huge role in this as well through supporting me and providing me with opportunities."
Coach Logan Fye said Voung has been an exemplary player in the program.
"Gabe is a tremendous young man who has left a large impact on the Madison College men's soccer program," Fye said. "He's extremely well liked by his peers and has a 'first to arrive, last to depart' mentality. It's obvious that his goals have led to many successes for our program, but the way he carries himself is arguably more impressive."
Voung plans to transfer to a four-year school and continue to play soccer, hopefully at the Division I level. "I am so thankful that I was able to achieve something of this caliber while here at Madison College," Voung said. "I'm still in disbelief that I could achieve something like this. I went from almost quitting the sport two years ago to breaking the goal scoring record at Madison College. I just can't be more grateful for everyone who supported me."
Story continues below advertisement