Madison-based artist Roberto Torres Mata's art exhibit in the Truax gallery, "Mi Casa Es Su Casa / My Home is Your Home," is a collaborative effort with writers and textile artisans from Oaxaca, Mexico, and other local artists. The theme in each piece is the journey of immigration and the viewpoints of people who are seeking a new home in the United States. The month-long gallery show ends Oct. 20.
Mata uses various colors to reference nature and to communicate the long journey through land, air and water, as well as quick brush-strokes, hand-brushed text and other mix-mediums. Many of his pieces feature the faces and figures of migrants. Mata says, "'Mi Casa Es Su Casa' is a welcoming space for all to immerse themselves with artwork and poetic voices." And the voices of those who seek opportunities and safety.
Mata is originally from Huntington Beach, California. He received his Masters in Fine Art and Printmaking at the University of Wisconsin-Madison. He is the most recent recipient of the Chazen Prize, and is the current fellow for the Education Graduate Research Scholars at UW-Madison.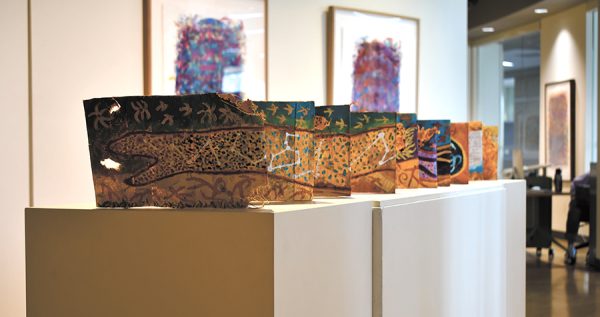 Story continues below advertisement