Two Madison College students testified at the Wisconsin State Capitol in defense of transgender rights to participate in sports at the K-12 and collegiate levels, as well as access gender-affirming medical care for youth.  
The Wisconsin State Legislature held public hearings for a trio of bills that would impact students at Wisconsin schools. One pair of bills centers on proposed athletics rules requiring transgender youth to participate in K-12 sports (AB 377) and transgender college students to compete on athletics teams (AB 378) that correlate with their sex assigned at birth.  
The other bill (AB 465) would prohibit health care providers from engaging in, referring, or providing medical care that would alter the body to change the sex of a minor, or anyone under the age of 18 years old.   
Story continues below advertisement
Transgender Athletic Teams & Competitions 
Amelia Roys is a Madison College student and lifelong Wisconsin resident who testified for the first time at the Capitol this Wednesday. For Roys, she said the transgender athletics bills would deprive other students from the opportunity to participate as part of a team, work towards a common goal and have an outlet to physically improve themselves.  
Roys, a transgender woman, begin to explore gender perceptions her senior year of high school and joined the track team to help solidify her identity. She wasn't the fastest member by a longshot, being the only senior competing at the Junior Varsity level, but her goal was mainly to improve personal fitness in a social context. She said being a member of the track team allowed her to do just that.  
"Fundamentally, to see the self-determination of trans people stripped away, even though I'm not in HS anymore or under 18, it felt personal. That was me just two years ago," she said. 
The author of the pair of sports bills, Wisconsin State Representative Barbara Dittrich, has been a longtime proponent of women's achievements in sports, introducing the "Protecting Women in Sports Act" back in 2021.  
In her written testimony, she stated that the bill is not meant to be interpreted as transphobic, hateful, or a ban on transgender individuals as a whole. Her primary concern is to help girls succeed in sports and prevent transgender athletes, like swimmer Lia Thomas, from competing on an uneven playing field with an unfair advantage in women's sports. 
Rep. Dittrich said she knows at least six known transgender students participating in WIAA sports out of more than 85,000 estimated students who participate in school sports across Wisconsin. Overall, she says this is "a matter of equality and justice" for female athletes.  
But Roys thinks that there is too much of a focus on competition and that supporters of the bill are speaking from the position that school sports are exclusively to win games, bring home scholarships and acquire trophies. From her perspective, she didn't join the team to win a title or a championship but rather to participate in an activity she enjoyed with other peers. 
The Wisconsin Interscholastic Athletic Association (WIAA) is the regulatory agency the oversees high school sports in Wisconsin and they have registered in opposition to the bills. In the past, the WIAA has also registered in opposition to Rep. Dittrich's original bills from 2021. 
The current WIAA Transgender Participation Policy considers a number of criteria to determine a student's eligibility to participate in sponsored athletics, including but not limited to (1) documentation supporting a student's stated gender identity, (2) written verification from a health-care professional and (3) medical records of hormone therapy. 
Medical Care for Transgender Youth 
Theo Shulman is no stranger to public discourse. He studies Political Science in the Liberal Arts Transfer program at Madison College, serves at the Vice President of Public Relations for Student Senate, and was the Constituent Services Intern in the Office of Wisconsin Governor Tony Evers.  
Shulman registered in opposition to AB 465 and spoke in-person for public comment on the bill. As a transgender man, he viewed it as his public duty to speak on behalf of other transgender youth who are seeking gender-affirming medical treatment. 
"It's not a question of bravery, it's a question of having a voice and using it… speaking for all of the people that this bill would affect and be harmed by," Shulman said. "It's what I hope anyone would do, speak out in a way that would have to be heard."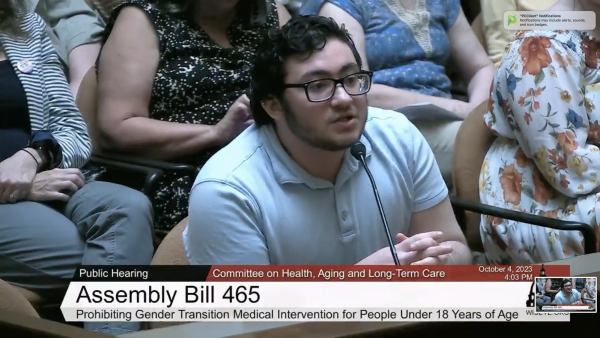 In Shulman's public testimony, he shared his own transition journey, beginning at the age of 18 which he says ultimately "saved his life." He views the legislation as a restriction on an individual's freedom of personal identity and right to privacy. As a bold finisher to his statements, he injected a medical dose of testosterone into his leg during the public hearing.  
Several physician groups, including the Wisconsin Medical Society, Wisconsin Public Health Association, and Medical College of Wisconsin, have registered in opposition to this bill. On the national level, four major medical groups have issued statements of support for gender-affirming medical care, including the largest professional medical group, the American Medical Association, according to Wisconsin Watch.  
At least 22 states have current laws that ban access to gender-affirming care for minors and many transgender youth, approximately 45%, live in states that have lost access to, or are at risk of losing access to, that medical care according to the Human Rights Campaign.  
What's Next for the Legislature?  
Given the current makeup of the Wisconsin State Legislature, the trio of bills are likely to pass and be sent to Gov. Evers' desk. But when the bills were first introduced, Evers made it clear that he would veto those bills.  
"Trans kids, people, and families are part of our world," Evers said in a tweet. "And any time you want to mess with them, you're going to get a veto from me. Pretty simple." 
Gov. Ever's reaffirmed his commitment to reject the anti-trans laws and met with folks opposed to the set of bills targeting trans athletes and access to gender-affirming medical care. Each of the bills has been referred to the committee, but do not yet have a date set to be heard on the legislative floor.