Last week officials from the U.S. Depart-ment of Education, U.S. Department of Commerce, and Jobs for the Future came to the Madison College Truax Campus for an education, industry and workforce development summit called Unlocking Pathways.
The summit is designed to increase and expand career success opportunities for high-wage, high-demand and skills-based jobs for graduating students. This was the third summit hosted this year, specifically focused on the CHIPS and Science Act for technology, manufacturing, and engineering type careers at two-year community colleges and technical schools like Madison College.
Some high-profile guests that were in attendance were Department of Education Under Secretary James Kvaal and Deputy Secretary Cindy Marten, as well as Wisconsin Governor Tony Evers.
At the Federal level, the Department of Education is focused on connecting young people to post-secondary credentials and addressing the record number of students that are dropping out of high school. But part of that work is also focused on finding solutions for students who come back later in life to pursue higher education and workforce credentials.
Under Sec. Kvaal stated that the picture of the average student of today is much different, with students who can be older, family caretakers, or full-time workers. But safety net programs can sometimes work across purposes and conflict with providing support for students who intersect multiple categories of underserved populations.
"Many of the basic needs programs like SNAP or housing, I think, are designed to try and screen out students on the idea that students are temporarily low income, but they have upper middle class parents that they can always fall back upon," Under Sec. Kvaal said. "That's just a fundamental misunderstanding of who students are today."
Beyond systems, Marten also noted that we need to focus on the individuals that make up the system.
"The very best things that we design start when lean in not just hear what students have to say, but really listen to them," the Deputy Secretary said.
"We want to exquisitely design systems, not just in the walls of the schools, but across communities that give kids the keys that they need to drive their future."
As a systems-minded person, Deputy Sec. Marten is focused on finding the bright spots of success that are sustainable across the board and can be replicated in other areas of the county.
At the state level, Gov. Evers focused on the pipeline from educational and apprenticeship training programs to the workforce. He cited the historically low unemployment rate (2.6%) and high workforce participation coupled with a shrinking labor pool as the primary reasons for why Wisconsin needs to invest in workforce development programs.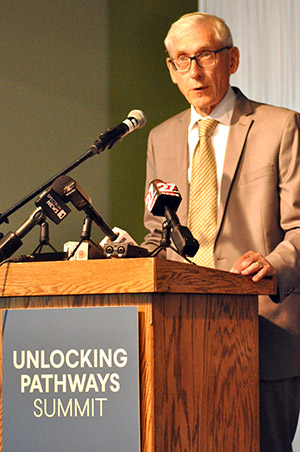 "It is our best interest as a state to do everything in our power to ensure we are helping people enter and be successful in our workforce," Gov. Evers said. "From apprenticeships to upscaling opportunities to access affordable housing, childcare, public transit, and more, we are committed to connecting those dots here in Wisconsin."
Evers placed extra emphasis on childcare opportunities for working parents who need access to affordable and reliable childcare to be able find jobs that work for them.
This is in context of his recent call to the State Legislature for a special session focused on providing additional funding from the $4 billion budget surplus for childcare resources and providers.
However, the leaders in the Legislature have indicated that they will not be taking up that issue, instead passing a middle class tax cut that Evers had previously vetoed.
Madison College President Dr. Jack Daniels affirmed that career and youth apprenticeship programs were the key to keeping talent in Wisconsin.
"The key to creating opportunities for young folk is through partnerships with businesses, K12, and community service organizations that recognize the importance of growing a quality workforce," Daniels said. "This is especially true in Wisconsin where the demand for employees is much greater than our supply."
Overall, President Daniels emphasized that Madison College is a community-oriented school and said the vast majority of graduates from this school and technical schools across the state stay and work in Wisconsin.
Story continues below advertisement