Bello Nock is a name synonymous with the circus. He is known as the "World's Greatest Daredevil" and has been performing in the circus for over 30 years. Nock's circus shows are not your average performance, but rather extreme and death-defying stunts that leave audiences on the edge of their seats. His circus, Bello Nock Circus Extreme Variety Show, is a show that is not to be missed.
A breathtaking spectacle of dancers, comedy and death-defying stunts, makes this show is a masterpiece of entertainment with an array of talented performers who showcase their skills in front of a live audience.
The circus show features a range of acts that are both visually stunning and thrilling. The opening act features an amazing ringmaster and dancers moving with grace and agility. One could witness the cutest puppy pals, the awe-inspiring Wheel of Wonder performed by Nock and his daughter, and an adrenaline-pumping high wire act executed by Annaliese herself. And that's just scratching the surface of remarkable.
Another highlight of the circus show is the daredevil act. Bello, as a master of comedy, delights the audience with his hilarious antics. His performance is a perfect blend of slapstick humor and physical comedy. It's sure to tickle the funny bone of both children and adults.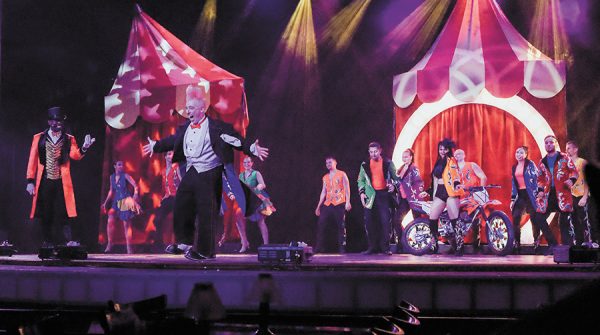 One of the most thrilling acts is the motorcycle stunt, in which a group of motorcyclists ride inside a metal sphere only a few feet wide at high speeds, performing dangerous tricks that are sure to leave the audience gasping in amazement.
The show is also a feast for the eyes, with elaborate costumes and stunning visual effects. The performers wear colorful costumes that are designed to enhance their performances, and to add to the atmosphere, the stage is also adorned with elaborate sets and lighting effects.
What makes Nock's circus show truly special is the passion and dedication of the performers. Nock has been performing in the circus since childhood and has dedicated his life to his craft. He has created a show that not only entertains but also inspires. His message is one of perseverance, dedication and pushing oneself to the limit.
In conclusion, Bello's Circus Extreme Variety Show is a must-see for anyone who loves live entertainment. The show is a perfect blend of traditional and modern circus acts, with a touch of humor that is sure to leave the audience in stitches. The performers are all incredibly talented, and their performances are a testament to the values that go into their craft. Nock himself is a legend in the circus world, and his passion and commitment are evident in every act.
The show is not just about entertainment but also about inspiring audiences to push themselves to the limit and achieve greatness. The show celebrates the human spirit and shows what is possible when we believe in ourselves.
Overall, Bello's Circus Extreme Variety Show is a masterpiece of entertainment that is sure to leave a lasting impression on anyone who sees it.
Story continues below advertisement