Breast Cancer is genderless
Self-awareness is the first step in prevention
Breast cancer is the most common cancer among female born people (after skin cancer). According to Cancer.gov, 12.9% of female born U.S. citizens will develop breast cancer sometime during their lives. That is a 1 in 8 chance of being diagnosed with breast cancer.
While the main risk factor for breast cancer is being born female, cancer shows no bias. Breast cancer affects people of any gender, race or age.
To stand up against the risk of breast cancer, Madison College Peer Health Educators have designed a program to empower students with information. The program, "Breast Cancer is Genderless," is designed with inclusivity in mind, under the direction of Denise Holin, Student Health Educator.
Jaxyn Pophal, Peer Health Educator, says: "When it comes to breast cancer, most people automatically assume it only affects women. However, that is far from the truth."
About 1 in 800 or 0.13% of male born U.S. citizens are diagnosed with breast cancer sometime in their lives according to Cancer.gov.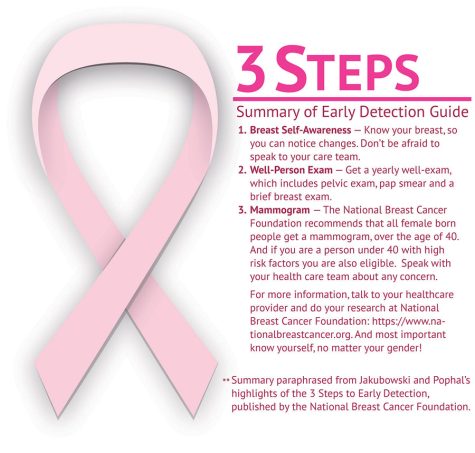 "Breast Cancer is Genderless" goes beyond the statistics to make information accessibility inclusive.
The program places tangible power in the hands of students through a Breast Cancer Awareness Kit. Rheanne Jakubowski, Peer Health Educator, says "We're hoping these kits will remind people that it's never too early to get proactive about your own health." The kits may include Pink Ribbon pins, stickers, bracelets, a "Breast Cancer Fact Sheet" and "3-Steps to Early Detection Guide."
Jakubowski explains the three steps to early detection as breast self-awareness, well-woman exams and mammograms.
Breast self-awareness is getting familiar with the look and feel of your own breasts. Jakowski urges, "Don't be afraid to speak with your doctor if you're unsure or simply have questions."
Yearly well-woman exams are important regardless of your health, says Jakubowski. The well exam includes a routine pelvic exam, pap smear and a brief breast exam.
According to the National Library of Medicine, mortality from breast cancer decreased 39% from 1990 to 2015. This decrease is due, in part, to improved early detection methods and empowering active self-care with information.
That is why Peer Health Educators have implemented the "Breast Cancer is Genderless" program. As Jakubowski observes, "Most traditional college age students aren't thinking about breast cancer, unless they know someone personally who has suffered. The kit is all about creating and reinforcing awareness."
The Peer Health Educator program takes a genderless approach to empowering students to know their bodies, be informed and speak confidently about their healthcare.
The message from Student Health is clear: Breast cancer is an everyone issue, be informed and save a life, your own.