Madison College Pow Wow held on Saturday, April 28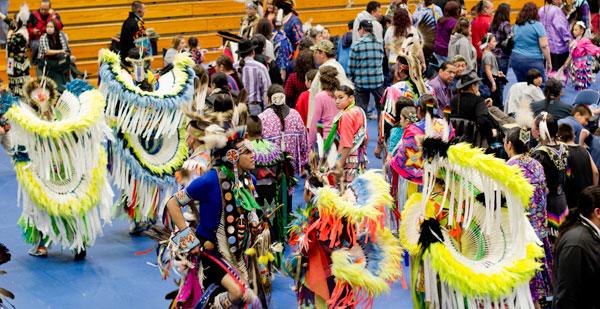 The Madison College Pow Wow was held on Saturday, April 28, 2012, in the Redsten Gymnasium at the Truax campus. View our gallery of photos from the event.
"Celebrating Achievements: Education, Community and Culture," was the theme for this year's pow wow. Hundreds of dancers, drummers, guests and volunteers gathered to make the event a success. The host drum this year was Tha Tribe, a multi-hyear Nammy nominee.
A pow wow is an event where Native people gather for dancing, singing, visiting with friends and relatives, renewing old friendships and making new ones. Most important, it is a time to think of the old ways and to preserve centuries old heritage. Many are held at specific times of the year to celebrate significant events in the cycles of life. As with all cultures, the songs cover a wide variety of subjects important to the lives of tribal members- honor and family, war and conquest, festivity and spirituality, sadness and mourning, joy and celebration. However, pow wows are not just for Native people.  Anyone and everyone is welcome to attend and participate.