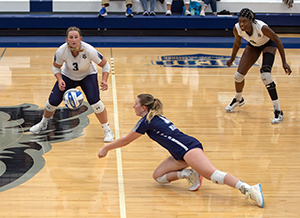 Despite playing a more challenging mostly Division 2 schedule, the Madison College volleyball team is one win away from matching its win total from last season.
The WolfPack stands at 19-8 this season, after finishing 20-12 a year ago. The team has three regular season matches left plus post-season play to improve its standing.
Madison College has won three of its last four matches, including an upset of fourth-ranked Heartland Community College.
Most recently, the team split a pair of matches at the College of DuPage Triangular on Oct. 14.
Madison College opened the event with a 3-1 victory over College of DuPage. Courtney Gorum led the team in kills with 21 and joined Kendall Weisensel for the lead in digs with 14. Daryn Schaefer led in assists with 32.
The next match saw Madison College fall to Rock Valley College, 3-1. After splitting the first two games, Rock Valley won the last two games to win the match. Gorum had 16 kills and three blocks to lead the team, while Weisensel had 11 digs. Hope Hesselberg added 24 assists.
Madison College celebrated sophomore night on Oct. 5 with a 3-0 sweep of Kishwaukee College. Before the match begain, the team recognized sophomores Tyra Anderson, Gabby Hack, Daryn Schaefer, Sophia Venne and Kendall Weisensel. Gorum led the team in kills with 10, while Addyson McHugh and Anderson both had nine.
On Oct. 3, Madison College won a back-and-forth match against Concordia University's Junior Varsity team, 3-2. Concordia won the first game handily, 25-14, but Madison College took the next two, 25-21, 25-20. A 25-19 win by Concordia in the fourth game forced a fifth game that Madison College won, 15-11. Gorum had 17 kills, four aces and three blocks to lead the team.
Next up for the WolfPack is the Madison College Quad on Oct. 20, followed by a match against Milwaukee Area Technical College on Oct. 24.
Story continues below advertisement