WolfPack softball on an upswing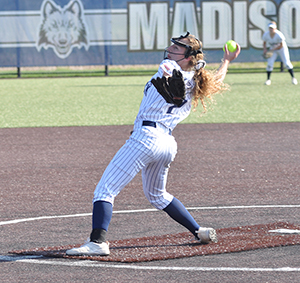 With just a few games remaining before the start of the NJCAA Region 4 Tournament, the Madison College softball team stands at 20-18 overall and 3-3 in conference play.
Recently, Madison College posted a split against conference foe Joliet Junior College on April 27. The WolfPack won the first game, 10-2, in five innings, but lost the second game, 5-1, after being held to five hits.
The team has been on an upswing lately, winning eight of 12 games from April 18 through April 28.
Its last regular season home game will be on May 5 against College of Lake County.
Madison College has six players hitting over .300, with Sophie Rivera leading the way at .469.
Rivera has 45 hits in 96 at-bats with 32 runs scored and 18 runs driven in. She has hit five doubles, five triples and three home runs.
Sammy Nelson is next with a .407 batting average. She has 46 hits in 113 at-bats and has scored 33 runs and driven in 24. Nelson has hit four doubles and three triples.
Karis Paulson is third in batting average, hitting .386 with 34 hits in 88 at-bats including eight doubles, four triples and two home runs. She has driven in a team-high 31 runs and scored 27.
The others hitting above .300 are Jenna Redders at .321, Makenna Gish at .314 and Ellie Rademacher at .313.
Kiana Pattersons leads the pitching staff with a 9-3 record. She has pitched 65.1 innings and has a 3.54 earned run average with 47 strikeouts.
Claire Smedema has a 4-3 record and a 2.15 earned run average in 45.2 innings pitched. She has struck out 39 batters this season.