Bruner reflects on his time with WolfPack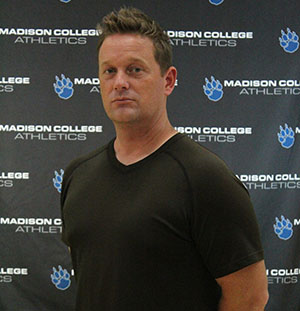 Tim Bruner, the third-winningest men's soccer coach at Madison College, stepped down in March to take a head coaching position at his alma mater, Edgewood College.
Bruner has a long list of accolades from his time spent here. He ended his first season with a 10-3-2 record, missing out on the North Central Community College Conference title with a 6-1-1 league mark. He was named the N4C Coach of the Year.
The 2022 season showcased the Pack improving to 12-5 and securing the school's second N4C title with a 5-1 record. Even with losing in the Region 4 championship match, Madison College was able to advance to the NJCAA Midwest District Tournament.
While this was an excellent season to end, Bruner explained that he decided to move to Edgewood based on his connection to the college, where he was a student-athlete and met his wife. He previously spent five years assistant coaching the men's and women's soccer teams.
Looking back on the past two years, Bruner says he better appreciates how much the college does to help its students and student-athletes succeed.
While coaching and spending time with the players, Bruner saw the academic barriers some student-athletes shoulder. Roadblocks like lack of accessible home internet, working full time to help with family expenses and speaking English as a second language.
He appreciates the college's support of his team and the athletic department.
"I was floored by how regularly we had check-ins and the genuine care behind the student success and pathway," he said.
But the real highlights of Bruner's career have been his relationship with his athletes.
He singles out the end-of-season evaluations, where the players give anonymous feedback to the athletic department about his performance as a coach.
Bruner received outstanding scores and enjoyed reading the responses to whether the team's coach cared about them (where they overwhelmingly responded "yes"). His relationships with the student-athletes are the most important to him.
"I want those relationships to be authentic, and based on the feedback from that survey, that was achieved as well," he said.
During his two seasons, Bruner saw the difficulty of players carrying a full calendar of academics and athletics. He was often in the position of helping players handle the balance between being an athlete and a student.
He believes it begins at the school.
"If they're taking care of things in the classroom, then they're probably doing an appropriate job of managing and prioritizing that life balance, and then they're succeeding on the field," Bruner said.
Bruner and his staff emphasized the routine and structure of succeeding academically. He noted they must have and be willing to ask for help when needed. Asking for help is challenging for some student-athletes. Bruner and his staff made it a priority to identify those at risk and for students to be aware enough to use the resources around them.
Reflecting on his two seasons, Bruner said the time he coached at Madison College was well spent for him and his career. The school taught him aspects of running an athletic program, allowing him to gain perspective for the student-athletes.
"I can't thank Madison College enough for the knowledge they've passed along. I'm a much better coach now after having spent time there," Bruner said.