WolfPack Athletic Hall of Fame inducts new members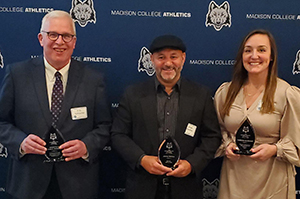 Three former athletes and two legendary local philanthropists were inducted into the Madison College Athletic Hall of Fame during a ceremony on March 22.
The three former athletes were Jorge Medina, Thresia Elskamp and Mike Goetz. In addition, Irwin A. and Robert D. Goodman were inducted for their generosity to Madison College and the community. The ceremony was held at Dahmen's at Hawks Landing in Verona, Wisconsin.
Medina made history as the first men's soccer player inducted into the hall of fame. He was a member of the Madison College men's soccer team during the 1998 and 1999 season, becoming the first player in program history to earn All-American honors.
In his two years at Madison College, Jorge's teams went 27-7-1, winning two conference titles, two state championships and one region title. His 22 career assists still rank second in school history. His 15 assists as a sophomore are still the third-best single-season total.
Elskamp was a starting guard on Madison College's 2009-2010 National Championship women's basketball team that went 31-3 and won the conference title for the first time. She averaged 8.7 points, six rebounds, 3.4 steals and three assists that season, earning all-conference, all region and NJCAA all-tournament honors.
That spring, she joined the WolfPack softball team and led the team with a .444 batting average, still good for sixth place in career batting average. In addition, she had four home runs, seven triples and 21 stolen bases. She earned both all-conference and all-region honors.
A season-ending injury cut short her basketball season in 2010-11, but she came back the next year even stronger. She finished the season with a team-high scoring average of 11.4 points a game and 7.3 rebounds a game. Elskamp again earned all-conference and all-region honors. She now ranks second in career steals with 227 and is 15th in both assists and blocked shots.
Goetz played two seasons for the Madison College baseball team and currently ranks second in program history for hits with 143 and fourth in career batting average at .413. He has the most triples in team history with 10 and is eighth in stolen bases with 35.
For his career at Madison College, Mike and his teammates won two conference titles, two state titles and one regional crown with a combined record of 61-45. During his time as a player he was named all-conference, all-region, all-district and an NJCAA second team All-American.
After Madison College, he played two seasons for UW-Milwaukee and was an NCAA First Team All-American selection his senior season after leading the entire nation in batting average. He spent four seasons playing professional for the Brewers and the Pirates in the minor leagues.
Irwin and Robert Goodman via their Irwin A. & Robert D. Goodman Foundation have continued to show their generosity well past their deaths in 2009 and 2010, respectively.
The Goodman Foundation provided a $6.7-million donation to create the Irwin A. & Robert D. Goodman Sports Complex at the Madison College Truax Campus in 2015. At the time, it was the largest financial contribution in the school's history.
For their spirit of community, generosity, dedication to Madison College and beyond, they are Madison College Athletic Hall of Famers.