Madison College falls in regional first round game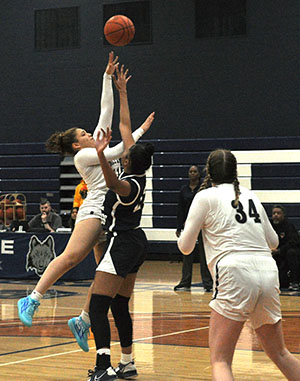 Madison College fell behind early against Joliet Junior College in their first-round game of the NJCAA Region 4 Division III tournament and was never able to recover.
Joliet Junior College raced out to a 28-9 lead in the first quarter, and Madison College was unable to close the gap, falling 69-54 on Feb. 24.
It was the third time this season the WolfPack had fallen to Joliet. The 15-point margin was the largest of the three meetings.
Kayla Staveness led Madison College with 19 points and was the only WolfPack player to score in double figures.
Joliet's defense held down two of Madison College's best scorers. Jordanna Davis had eight points on 4 of 13 shooting, while Taylor Ripp had six points on 2 of 12 shooting.
Madison College finished the season with an 8-20 overall record. Joliet advanced to the Region 4 championship to play top-seeded College of DuPage.
Rock Valley College 107, Madison College 73
Former conference rival Rock Valley College posted a 107-73 victory over Madison College on Feb. 21, scoring the most points the WolfPack has allowed this season. Rock Valley, ranked 12th in Division II, took a 26-14 lead after one quarter and never looked back.
Reyna Knox led Madison College with a career-high 18 points on seven of 10 shooting. Mikala Williams and Taylor Ripp both added 16 points. Jordanna Davis rounded out the double-digit scorers with 13 points.
Rock Valley College has now won the last 12 meetings between the two teams.
Milwaukee Area Technical College 69, Madison College 62
A 12-0 run early in the fourth quarter turned what had been a back-and-forth game into a 69-62 victory for Milwaukee Area Technical College on Feb. 19. Madison College had pulled within a point at 52-51 before allowing Milwaukee to score 12 straight points over a three minute stretch.
Ripp had 15 points and eight rebounds to lead the WolfPack, while Knox scored 12 points. Emma Paulson was the only other player in double figures with 11 points.