Madison College win ends an 8-game losing streak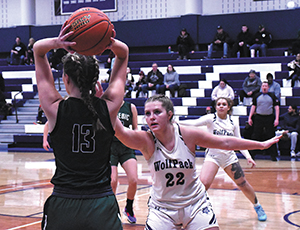 A big fourth quarter against visiting Gogebic Community College on Jan. 26 enabled the Madison College women's basketball team to end an eight-game losing streak. The win was the WolfPack's first since Dec. 3.
Madison College outscored Gogebic, 9-5, in the final three and a half minutes of the game to claim a close 60-56 victory.
Three-point shooting gave Madison College a boost in the game. The WolfPack hit 10 of 28 shots from 3-point range, led by freshman Emma Paulson who hit three of six and scored a total of nine points. Kayla Staveness and Kaylee Anzalone both hit two three-point shots.
Taylor Ripp led Madison College in scoring with 15 points, adding 12 rebounds for a double-double. Jordanna Davis and Staveness both scored 12 points to round out the WolfPack's double-digit scorers.
Madison College now stands at 7-14 overall with a slate of four conference games next, starting with a game at the College of DuPage on Jan. 31. Following that, Madison College hosts Joliet Junior College on Feb. 2 and Harper College on Feb. 7.
Milwaukee Area Tech 68, Madison College 66
Despite holding a 13-point lead early in the second quarter, Madison College lost a close game against Milwaukee Area Technical College, 68-66, at home on Jan. 24.
Milwaukee rallied in the second and third quarters, outscoring Madison College, 20-13 and 24-19, to tie the game.
Davis scored 12 of her game-high 18 points in the first half, hitting eight of 14 shots on the game. Ripp added 13 points for the WolfPack.
Joliet Junior College 72, Madison College 65
Madison College struggled offensively, hitting just 30 percent of its shots as it fell on the road to Joliet Junior College, 72-65, on Jan. 17.
Despite the rough night, Davis scored a career-high 27 points and Ripp registered a double-double. Ripp had 17 points and 12 rebounds.