Overtime loss extends streak to 6 games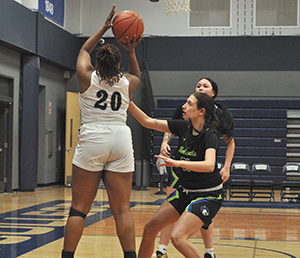 An overtime loss to the College of DuPage on Jan. 12 in the conference opener has extended the Madison College women's basketball team's current losing streak to six games.
DuPage outscored Madison College, 7-2, in the overtime period to claim an 83-78 victory and thwart the WolfPack's hopes of earning their first win since Dec. 3.
The game against DuPage was close throughout, with Madison College holding a 37-34 advantage at halftime.
Jordanna Davis led Madison College with 24 points and nine rebounds. Taylor Ripp added 16 points and 16 rebounds.
Madison College now stands at 6-12 overall. The team next plays at Joliet Junior College on Jan. 17 and at Harper College on Jan. 19.
Bryant and Stratton College 87, Madison College 56
Taylor Ripp tied her career-high scoring mark with 23 points, but it wasn't enough as Madison College lost to 15th-ranked Bryant and Stratton, 87-56, at home on Jan. 10. Knox was the only other player to score in double figures for the WolfPack, netting 10 points.
Oakton Community College 92, Madison College 73
Madison College was able to keep within striking distance of undefeated Oakton Community College until the fourth quarter, when Oakton netted 31 points to post a 92-73 victory on Jan. 3. Madison College's Jordanna Davis scored a career-high 23 points, hitting 8 of 11 shots in the game.
Elgin Community College 86, Madison College 63
A 29-point second quarter gave Elgin Community College all the momentum it needed in an 86-63 victory over Madison College on Dec. 29. Ripp led Madison College with 18 points and had 10 rebounds. Davis scored 15 points, while Mikala Williams had 12.
Kishwaukee College 68, Madison College 65
After leading by nine points at halftime, Madison College lost to Kishwaukee College, 68-65, on Dec. 10. Madison College allowed Kishwaukee to outscore them 25-16 in the final period. Five players scored in double figures for the WolfPack, led by freshman Emma Paulson's 15-point effort.
Loras College JV 65, Madison College 51
Loras College scored the first seven points of the first quarter to take a double-digit lead on its way to a 65-51 victory over Madison College on Dec. 8. Cora Hansen led the WolfPack with 16 points, matching her career high. Ripp had a double-double with 11 points and 12 rebounds.