Early lead fades as WolfPack falls short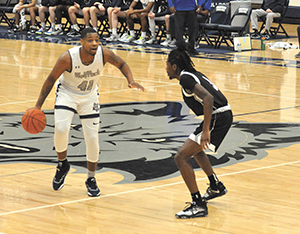 Madison College built an early double-digit lead in the first half against visiting Prairie State College, but was unable to maintain the momentum and fell, 69-66, on Dec. 3.
The Prairie State rally began late in the first half, as Madison College went on an extended scoreless streak and saw their lead shrink to 33-30 at halftime.
Despite going cold late in the half, the WolfPack still hit 56% of its shots in the first half (14 of 25), showing just how well they were shooting to open the game.
In the second half, Madison College actually had a better shooting percentage than Prairie State, 47.8% to 45.7%, but Prairie State got off 12 more shots thanks mainly to their rebounding advantage.
Prairie State out-rebounded Madison College, 34-24, for the game and scored 16 second-chance points compared to three for the WolfPack.
Keith Hoffman led Madison College with 26 points. He hit nine of 12 field goal attempts, including two of three from behind the three-point line. Nik Feller scored 13 points, while Cortez Telfered added 11.
Madison College is now 6-6 overall and has two games remaining before the holiday break begins. The team's next games are at Loras College on Dec. 8 and at home against Kishwaukee College on Dec. 10 at 3 p.m.
Madison College 80, Western Technical College 54
A two-game losing streak came to an end in convincing fashion as visiting Madison College defeated Western Technical College, 80-54, on Nov. 30. Madison College took a 39-23 halftime lead and never looked back.
Deante Luster led the WolfPack with 19 points, hitting 7 of his 11 shots including three of five from behind the three-point line. Cortez Telfered added 17 points, Nik Feller scored 13 and Keith Hoffman had 10.
Rochester CTC 73, Madison College 67
After holding a small halftime lead, Madison College fell just short in its bid to upset No. 6 Rochester Community and Technical College, losing 73-67 on Nov. 22.
The first half was a tight defensive battle, with Madison College claiming a 30-24 lead. Rochester went on a run to open the second half and raced to a 38-37 lead, pushing it to 63-51 with just under nine minutes left to play.
Madison College closed the gap, but fell short in its late rally. Feller led the team with 19 points, while Luster had a double-double with 15 points and 10 rebounds. Telfered added 14 points, and Hoffman had 10.
Carl Sandburg College 87, Madison College 81
Madison College saw an eight-point lead slip away in the final 10 minutes of the game, falling to Carl Sandburg College, 87-81, on Nov. 19.
Hoffman led Madison College with 25 points and eight rebounds, scoring 16 points in the second half. Luster added 15 points, while Feller scored 13.