WolfPack men's soccer success started with respect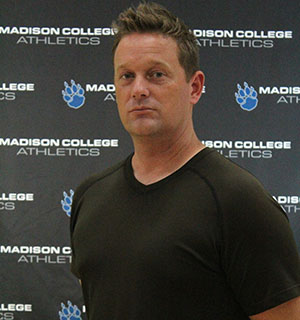 When coach Tim Bruner interviewed for the men's head soccer coach position last summer, he had already developed a plan for his team. His goal wasn't necessarily about ball handling, passing, shooting or scrimmages. It was about something less tangible — respect.
During his initial meeting with athletic director Steve Hauser, both Bruner and Hauser agreed that the team's success would stem from players behaving and conducting themselves favorably.
"One of the major initiatives, when I took the program over, is — we're going to have respect for ourselves. We're going to have respect for others," Bruner said.
The WolfPack had no red cards and approximately one yellow card a game—on average, a considerably lower percentage than any previous season.
"Everything we did, in terms of behavior, was right. That translated to success for us in the wins and loss category because we didn't get preoccupied with any other stuff in the game."
The team finished the season with a 10-3-2 overall record and a 6-1-1 conference record, good for a second place finish.
Collaborating and Cohesiveness
Bruner recalled his first day with returning players, incoming players and new coaching staff.
"We had this mishmash group of people [who] spoke soccer as passion and were able to align. Many of the players were returning players who were all getting along. That helped carry us into a place where we were willing to fight and compete for each other," Bruner said.
Bruner uses the solidarity of his goalkeepers as an example. Goalkeeper and captain Sebastian Varela had a significant role in creating a bond for the other two goalkeepers, setting the tone for the team.
"It would be easy for them to see each other as competition. That could cause some problems because you're only allowed to play one of them at a time. They did a great job of collaborating and working together and trying to challenge each other to become better," Bruner said,
Varela agrees with Bruner, taking pride in the camaraderie.
"We're not only a team. We're also a family. We're a brotherhood. We never let competition or the idea of being better than any other player [interfere]."
For the Costa Rican native, it's vital to bond beyond the playing surface. "We get along on the field but also outside the field so we can have better chemistry and have better confidence in each other," Varela said.
Varela isn't the only player who appreciates the family-like bond.
"There was no drama, which tended to be a problem in previous years," said midfielder Jonas Luskey Sanders. "Everyone was fighting for each other, and we stuck it out until the end. I was sure the season might have been a bust again, but it was just a complete turnaround."
The team captain sees Bruner's proactive guidance as an unexpected benefit. "I like his coaching style because it's not a one-size-fits-all. He makes sure to get on the ground level with players and knows each player's strengths and weaknesses."
Luskey Sanders noticed several players needed extra support during the season but were hesitant to reach out. Still, Coach Bruner had that insight to take the initiative and connect with the players.
The Coaching Cauldron
Being hired only three weeks before the soccer season, Bruner optimized his 18 years of club soccer experience and six years as an assistant coach with the men's and women's teams at Edgewood College.
Early in the season, the WolfPack learned they were ranked sixth in the nation. Bruner admits the ranking gave the team swagger and confidence. "That helped us believe we had something good going. We were able to stay in the national rankings all year."
Bruner acknowledges it's not a one-person show that gave the team the achievement. He's quick to credit assistant coaches Matt Tebo and Peter Lively. "Both of them are capable of doing the job that I'm doing because they're so experienced," he said.
In addition to Tebo and Lively, Jamie Lieberman provided goalkeeper-specific training, and Aldon Lumnai jumped in to play the game, demonstrating skills to players.
"We put this all in the cauldron and stirred it up. What we had from a coaching staff, we were able to reach every player and come up with a style that was helpful for them to learn," Bruner said.
Mental Strength
Another component was the team's mental game. With a record of 10-3-2, Bruner notes the season had a lot of close games, but the team was able to harness their mindset.
The spring season's record was 2-6-1. Bruner explains that many of those games were close games, but the team shored up their mental game from spring to fall. "It showed we took some lessons from that spring season and applied those to the fall. They were able to find the win this time around," Bruner said.
The WolfPack's regular season finished in a tie, ending a nine-week winning streak. While a scoreless semi-final conference game ended in a penalty shoot-out, where the opposing team Harper College won, the team views the first season with Bruner as a complete one-eighty.
"This season was a rebuild year. It wasn't even a year we were supposed to have much success. We've never been ranked before this season," Luskey Sanders said.
For Bruner, success comes down to mental fortitude and deep admiration for the sport. He says soccer has many decisions that can preoccupy a player, with time wasted being concerned with a referee's decision.
By not worrying about whether the referee made the right decision or the opposing team's behavior, they were able to turn their focus to their playing, which translated to more wins.
The job was to stay focused on the task at hand.
"You can't control a referee's decision. You can't control what an opponent is going to do. So we focused on ourselves and kept inward. It kept our eyes on the prize," Bruner said.