WolfPack women's soccer team reflects on season success with eye on future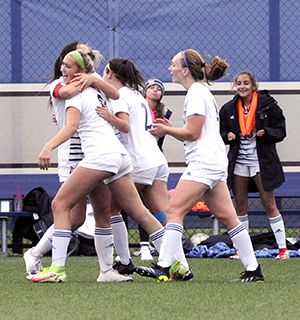 The Madison College women's soccer team came up one win short of earning a berth in the NJCAA Division III Championships in New York, but coach Matt Schwartz is not re-living his season by looking in the rearview mirror.
Instead, he's reflecting on the highlights from his team's 9-5-1 season, and looking forward to optimizing WolfPack's strengths for the upcoming season and cultivating them with skills to provide the players with a more decisive mental game.
This season, one highlight came when the WolfPack became the NJCAA Region 4 Division III Women's Soccer Tournament Champions after shutting out second-seeded Harper College in a 3-0 match.
In addition to securing the title for the third time in five years, freshman defender Sydney Maksymo earned MVP honors for the game. Although she feels honored to win the MVP award, Maksymo insists it was a team effort.
"Everyone was working their hardest. We all wanted to win and do our best. It was a pretty big honor because everyone on the team deserves it," Maksymo said.
Becoming Region 4 champions gave the WolfPack the extra motivation to prepare for the Great Lakes District Tournament semifinal against Rochester. Both teams were tied in wins/losses. The WolfPack had recently fallen to the Yellowjackets at home, a heartbreaking loss.
Schwartz says his team was determined to take the sting out of the recent loss, saying they saw the semifinal as a second chance to "right the ship" after losing to them at home.
The WolfPack staff used game film as learning tools. With two game films on hand, they broke down the film to educate the team. Schwarts credits men's soccer coach Tim Bruner, calling him instrumental in analyzing film on Rochester.
Along with Bruner, the rest of the women's soccer staff came up with a plan that the team only had a week to implement.
They played the semifinal on an overcast, windy day. While they didn't score until late in the game, the WolfPack did what they were trained — suppress the Yellow Jackets from a defensive standpoint where they couldn't get forward. Schwartz credits the players and how intelligent they were with the game plan, each player doing a specific thing to get into a position to shut the opponent down.
Everything changed at the 75-minute mark when first-year defender Paris Rose had possession of the ball. She launched a goal to put Madison College on top 1-0, staying till the end to win the match.
"They stuck to the game plan. They didn't panic. They didn't change anything. Eventually, the goal came. It was super exciting. It was a meaningful goal because it was just so much build-up to it," said Schwartz.
"Those one-nothing games, whether you win or you lose, that are a dog fight the whole time — are always so much more impactful and exciting."
Moving forward, Schwartz wants to spend next year helping players develop ways that support the mental side of their soccer game.
"That part of any sport is so overlooked in this day-and-age. If you don't have kids who can navigate the social spectrum and get along with each other and overcome adversity — you're not going to be helpful on the field, regardless of how good you're training."
Schwartz says he's excited about working with his captains next year, who have already come up with get-togethers to create team-building skills.
"This is one of the most talented groups we've had – definitely one of the best teams mentally we've had just from a toughness standpoint," Schwartz said.
Maksymo, one of next year's captains, agrees.
"This is the best team I've ever played on. Every single person on this team puts their whole heart and their effort into each practice and games. Everyone was always focused and really just trying to work their hardest for each other," she said.
Schwartz has coached other successful teams that may not have the same bond. He says while team chemistry isn't the most important factor, it certainly makes it easier to do his job.
"They love to show up every day. They had a lot of fun with each other. They were just a joy to coach and show up," Schwartz said.