Surviving a sidelined season
Baseball and softball players saddened by a lost season, looking ahead to next year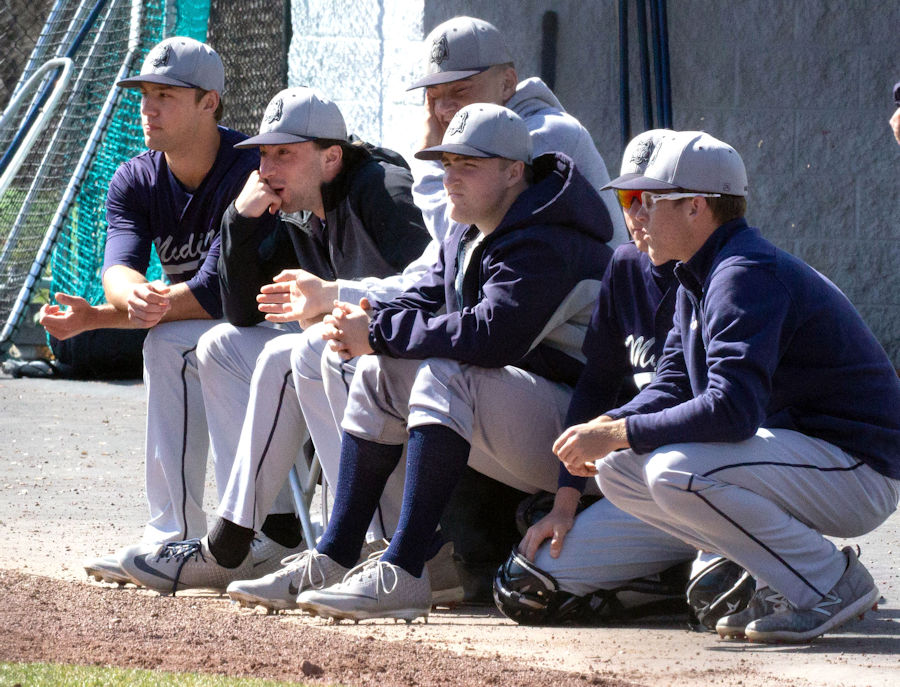 Anica Graney & Christina Gordon, Managing Editor & Sports Editor
April 22, 2020
With the seasons being cut short for the Madison College softball and baseball teams due to the Coronavirus outbreak we caught up with a few of the players to see how they are reacting and what they are doing to stay in shape.
Clarion: How will this canceled season impact your baseball career?
Meg Miklesh: The cancelation has taken a whole season of recruiting from all the girls who are planning to transfer to a 4-year university after our time at Madison College. Fortunately enough, we are granted another year of eligibility, which means we get to play a whole other year!
Morgan Dercola: It will impact my softball career because I won't be able to get the practice and reps that I would need to play in the game for next year as I transfer to a new school. Coming into the next season without playing softball is going to be hard and tough because I wouldn't have played a game in a year and being in that setting for me is going to be different.
Callie Schnitger: With this season being cancelled it has impacted my softball career in many ways. I am going for my associates degree in Dental Hygiene and with it only being a two year program my extra year of eligibility is not really an option for me. I also don't get to have the experience and chance of playing a whole season with the team we started out with and have been practicing with from the beginning and it is really upsetting because we had something very special.
Cathryn Hiller: This cancelled season technically hasn't impacted my softball career since we gained this year of eligibility back, so my softball career can still carry on three more years. It has however impacted my softball career at Madison College. My softball career at Madison College was cut a year short, which is heartbreaking even more so that it's a two-year school. I was just getting comfortable, creating relationships with coaches and teammates, and it was ripped away from me and everyone else. It hasn't so much impacted my technical softball career, but it's impacted my life and memories here.
Gracie Malin: This season being cancelled impacted my softball career in a few ways. I am lucky enough because it was only my first season. I missed out on a possible national experience, unforgettable memories, and many wins with games. We only played eight games, and we were just figuring out what positions we were going to play, and more. If I want to play after this, I am going to have to go all out next year, because that's going to be the only season I will get. It's not that my career was impacted because I do get another year, it was more the fact that I missed out on one of the best seasons of softball I will have ever played, with a team that I love.
Kylle Hraban: I think that the season being canceled takes the opportunity for experience away from the first-year players. I was looking forward to doing great things this year with the team. I am grateful that everyone gets another year of eligibility, but I wish I had my two full years here.
Andrew Neu: There are a lot of juco (junior college) players who are in the same position as me, that we can wait and try to move on to another school or have the option to come back. This season getting cancelled impacted everyone in a negative way. The only way this will impact my career is putting it on pause for a year, which always is not a bad thing.
Eliot Turnquist: The canceled season will impact me by taking a year away from being on the field competing. I'm not getting any younger, and being a collegiate athlete means my career is potentially close to being done. It's very disappointing.
How will you train/practice this spring while practicing social distancing?
MM: During this time of social distancing, I will still be training with my two sisters, one who plays softball at the University of Wisconsin- Madison and my little sister who is a sophomore in high school. Working with the two of them still gives the competitiveness of practice while you get to be surrounded by family.
MD: Every day, I have been throwing the ball with a partner and hitting off the tee. But every once in a while, I do go to a field and have someone hit me fly balls, as I am an outfielder. And also, I do catcher drills to keep up with catching because I can't catch for a pitcher right now.
CS: I will be practicing and training with the help of my sister and my dad outside by playing catch and hitting into my net to get reps in while practicing social distancing. I will also continue to workout in my garage to stay in shape and get stronger.
CH: I know lots of athletes are struggling to weight train or practice during this time, luckily us softball players just need a backyard to practice. I am lucky to have access to a family owned gym where I can pitch, practice, and workout. I have amped up my training, mainly to keep me distracted from everything that's happening, but to also prepare me and make me stronger for my upcoming year with Edgewood College softball.
GM: Over social distancing I am doing what I can to stay in shape. Softball made me in shape big time, and I don't want to lose that. This will include running, and training my abs. I don't have weights therefore I can only do with what I have. I will also throw with my friends or my brothers, depending on where I am at. When this gets better, I hope to somehow find a place where I am able to hit, but for now all I can do is exercise and throw.
KH: Although the season is canceled, the training is not over. I have received a workout plan from the assistant coach. I also have hitting and fielding drills I can do in my backyard. It's not the same as an actual practice but in these times, you have to make the most out of everything and continue to work on your game.
AN: I will do my best to try and recreate some of the things we did in winter for practice and training. I try to long toss every day. While trying to throw a bullpen at least once a week. I try to lift 3-4 times a week and cardio when I can. It has been pretty tough, but now is a time to get creative with everything.
ET: I am throwing into a net mostly to keep my arm in shape. I have some high school friends that go to the local baseball field with me. I am doing all body weight exercises to stay in shape and have put a large emphasis on cardio. Staying sharp mentally is also important and I am studying my favorite MLB pitchers and learning from them and keeping competition fresh in my mind.
What do you miss most about your team?
MM: I miss seeing some of my best friends at practice and around the school. I am going to miss the bond we made with the shortened time we had spent together most.
MD: One thing I do miss about softball and my team is being with them every day and having fun. My team had some of the best of friends and will be lifelong friends. I miss being able to play in a game and the intensity it has. I really just miss it all.
CS: What I miss most about my softball team is being able to see and interact with them every day. We have created great friendships through the time we spent together. I had such a fun time playing the game we all love even though it did get cut short. I will miss the second years so much and wish them the best of luck.
CH: I miss my coaches and teammates. We were like a big family that truly cared for one another, I miss seeing everyone every day. As much as we or I may complain about running during practice or practice going over two hours, I really do miss all that. I miss walking on the field, our gorgeous field, and letting everything go because all I had to worry about was softball.
GM: I will miss the team most. I have never played on a team where the girls got along so well, liked each other, and played well together. This team was special, and I loved every girl on the team. Playing games was exciting, every girl contributed whether it was cheering, to playing. The energy was enjoyable to be around, and I genially will miss the girls, coaches, and the game of softball.
KH: I miss not being able to see my teammates. I miss laughing with them. I believe that the team chemistry was great, and I wish we had more time together.
AN: I miss everything. I miss playing, practicing, and the team a lot. We had a good group and had a good time with everyone with the time we had. Definitely was going to be a fun year.
ET: I miss being around the guys on the team and being in the long process the season brings to the table. Losing the Arizona spring trip is also something I will miss. It is a lot of fun to get to know some guys a little bit better and enjoy the warm weather.